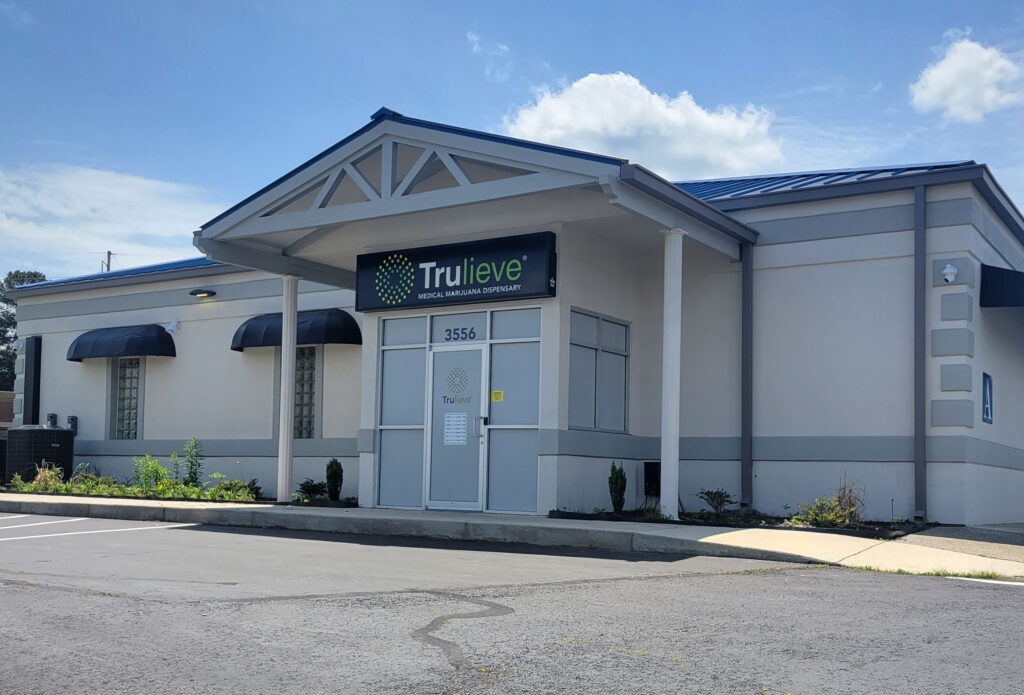 Trulieve Georgia has opened one of two new medical cannabis dispensaries in Macon.
ATLANTA – When the state agency overseeing Georgia's medical cannabis program issued the first dispensary licenses late last month, it gave the two licensees four months to get them up and running.
Trulieve Georgia and Botanical Sciences LLC won't need nearly that long. Trulieve opened dispensaries in Marietta and Macon the very next day after being awarded their licenses, while Botanical Sciences plans to open two more late next month or in early July.
"These licensees made a sprint," said Andrew Turnage, executive director of the Georgia Access to Medical Cannabis Commission. "It's an amazing testament."
The speed with which the two companies are opening dispensaries is in sharp contrast to the frustratingly slow pace the medical cannabis program took to reach this point.
The General Assembly first legalized possession of low-THC cannabis oil to treat a wide range of diseases back in 2015 but failed to provide patients a legal way to obtain the drug. Adult patients and parents of ailing children have been forced for years to travel out of state to get cannabis oil or buy it illegally in Georgia.
It wasn't until 2019 that the legislature passed a bill setting up a licensing process for companies to grow marijuana indoors under close supervision, convert the leafy crop to cannabis oil, and sell the product to patients with a doctor's prescription who signed up for a registry run by the Georgia Department of Public Health.
Currently, the registry numbers about 27.000 patients. But it is expected to grow quickly now that the first dispensaries are open. Turnage said he expects the list to hit 100,000 patients within the next year.
"A lot of people have been holding back to make sure this was actually going to happen," he said. "A lot have been afraid up to this point because it was unlawful. They don't want to run the risk of crossing state lines."
Trulieve and Botanical Sciences helped speed up the process by starting to build manufacturing plants in Adel and Glennville, respectively, last fall when the commission granted them Class 1 manufacturing licenses. Under the 2019 law, Class 1 licensees are authorized to grow marijuana in up to 100,000 square feet of indoor space.
Botanical Sciences already has had two harvests at the Glennville site, said Gary Long, the company's CEO. He said the company has 25 employees in Glennville and expects to increase that to as many as 100 within six months. Each dispensary will hire 12 to 15 employees, Long said.
Trulieve Georgia President Lisa Pinkney said the Adel plant has fewer than 50 workers but will bring on more as demand for the product increases. Each of Trulieve's two dispensaries has seven to 10 employees, she said.
Both companies are using what's known as a vertically integrated business model, as the 2019 law requires.
Long said that "seed-to-sale" model makes Botanical Sciences responsible for the entire process, from planting and harvesting the seeds to producing cannabis oil and selling the product.
"Fully integrated licenses are very good not only for ourselves but the patients because we have control over the process," he said.
While the law prohibits the companies from advertising or marketing cannabis oil, both are planning to educate patients and physicians about the program.
Pinkney said Trulieve already has held three virtual training sessions for physicians.
"No question is a dumb question," she said. "This is new."
Long said educating patients will require dispelling misperceptions.
"This is not a smoke shop," he said. "Our dispensaries are going to be more like medical facilities."
Long said demonstrating to the commission the serious medical nature of the business played an important role in winning manufacturing and dispensing licenses.
"We're physician founded," he said. "The vision is to serve patients in a medical way."
Pinkney said Trulieve's diverse management team helped it win licenses because the state was looking for diversity. She is African American, and pro football Hall of Famer Champ Bailey, who also is Black, is part of ownership.
"Trulieve brought together a very diverse team that has experience," Pinkney said.
Both companies initially plan to locate their dispensaries in areas with large populations and, thus, a large number of eligible patients.
Besides the Macon and Marietta dispensaries, Trulieve plans to open dispensaries in Newnan, Pooler, and Columbus this summer. Botanical Sciences plans to open in Pooler and Marietta.
One feature of the 2019 law that is unique to Georgia is that it also will allow independent pharmacies across Georgia to dispense cannabis oil to patients.
"That may help in the outlier parts of Georgia where we can't get our dispensaries," Pinkney said.
While it's full steam ahead for the two Class 1 licensees, four other companies tentatively awarded Class 2 licenses by the commission in 2021 are being delayed by lawsuits filed by losing bidders challenging the selection process as flawed. Class 2 licensees will be allowed to grow marijuana in up to 50,000 square feet of indoor space.
Turnage said he expects the case to be heard in Fulton County Superior Court this fall.
"Litigation is the only barrier to issuing these licenses," he said. "We believe it's time to move forward."