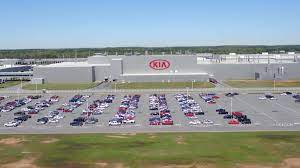 ATLANTA – Georgia's two U.S. senators are urging Senate leaders to fast-track legislation aimed at preventing shortages of semiconductors, citing next week's temporary closure of the Kia plant in West Point for the lack of those electronic components.
Semiconductors are vital to the approximately 340,000 Kia cars manufactures in Georgia each year. But the coronavirus pandemic has strained the global supply chain, prompting a shortage of semiconductors that is forcing Kia to close the West Point plant on Monday and Tuesday.
Georgia Democratic Sens. Jon Ossoff and Raphael Warnock wrote a joint letter this week asking Senate Majority Leader Chuck Schumer, D-N.Y., and Minority Leader Mitch McConnell, R-Ky., to speed up consideration of a bill providing $52 billion to incentivize U.S. businesses to produce more semiconductors.
"American dependence on foreign suppliers of semiconductors is a strategic vulnerability for both our national and economic security, and ongoing shortages of this vital technology are directly harming workers and businesses in Georgia by disrupting operations of the Kia plant in West Point," Ossoff and Warnock wrote.
"We must act swiftly and in a bipartisan manner to pass this legislation, which will boost American manufacturing of semiconductors and safeguard auto manufacturers like Kia Georgia against disruptions to the global supply chain."
Kia and Hyundai Motor Co., also shut down several of their plants in South Korea this week, citing the shortage of semiconductors.
Supply chain issues forced the Kia West Point plant to shut down temporarily in March and April of last year. Company officials also cited the outbreak of COVID-19 at the time.
The $1.1 billion plant along Interstate 85 near the Alabama border employs more than 2,700 workers.