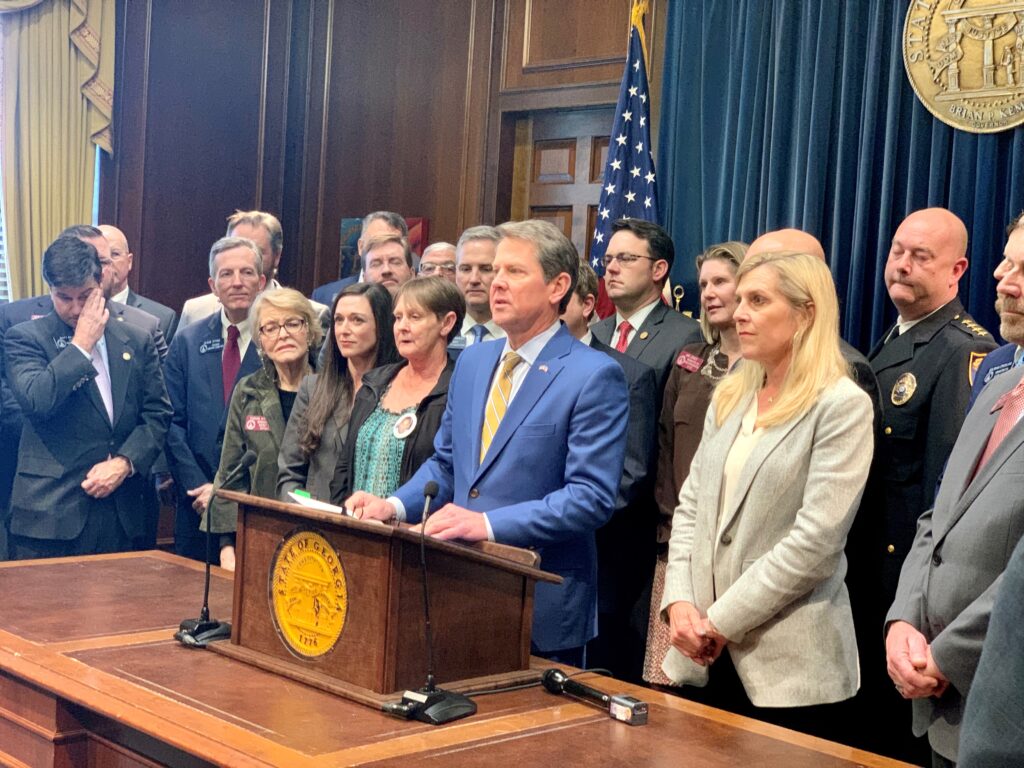 ATLANTA – Gov. Brian Kemp unveiled legislation Thursday aimed at toughening Georgia's anti-gang laws by lengthening prison sentences, extending the reach of law enforcement agencies across county lines and adding the death penalty as an option for gang-related murder convictions.
Bills to be filed in the 2020 legislative session would also create a new felony law for gang members who commit sex crimes, allow Georgia Bureau of Investigation officials to serve as special prosecutors in local gang cases and let security officers make arrests up to 880 yards outside school campuses.
Also, the legislation would empower prosecutors to seize property used by gangs or anyone convicted under the state's anti-gang laws.
Cracking down on criminal gangs has been a major plank of Kemp's agenda since his gubernatorial campaign in 2018. The governor and his wife, Marty, have also focused on fighting human trafficking.
"Simply put, there will be no safe haven for criminal gang members in our state," Kemp said at a news conference Thursday.
Georgia anti-gang law already sets prison sentences of up to 20 years for a conviction. It's among the toughest penalties in the country, officials say.
Earlier this week, top state law enforcement officials urged lawmakers to boost funding for a new gang task force Kemp launched last year and a database to track tens of thousands of gang members in the state.
Georgia has more than 71,000 gang members at large plus another roughly 30,000 in prison or on parole, according to Georgia Bureau of Investigation Director Vic Reynolds. It's likely the actual number of gang members is higher, he said.
"This is the major issue facing law enforcement today," Reynolds told a joint hearing of the House and Senate Public Safety committees on Monday.
Kemp's budget calls for nearly $1.6 million this fiscal year and next to add seven agents and analysts to the gang task force, more than doubling its current staff. He launched the new task force last year under the Georgia Bureau of Investigation.
The budget would also pump $420,000 into a gang database created in 2010 that has gone unfunded. The database would allow local sheriff's offices and city police departments to better share information on gang activity in the state, officials say.
Those additional funds come as Kemp has proposed budget cuts for several criminal justice areas like alternative-sentencing courts and the Georgia Public Defender Council.
The governor-driven anti-gangs legislation drew pushback from some criminal justice advocacy groups Thursday, including the nonprofit Southern Center for Human Rights. Public Policy Director Marissa McCall Dodson said state officials should focus more on helping local communities discourage people from joining gangs in the first place, instead of meting out stricter punishments.
"Unfortunately, instead of proposing proven methods which reduce violence and increase opportunity, Governor Kemp has chosen to simply increase penalties – which are already harsh and ineffective – for people accused of gang involvement," said Dodson.
Alongside criminal justice advocacy groups, some state lawmakers are also wary of beefing up Georgia's already strict anti-gang laws. Early in the 2020 legislative session, Senate Minority Whip Harold Jones II argued more funding for judges and prosecutors is needed to enforce existing statutes.
"The key right now is not the fact that we don't have tough gang laws," Jones, D-Augusta, said Jan. 16. "The key is that we're not able to actually enforce them."
Sen. Valencia Seay, D-Riverdale, said schools especially need more attention because they have become recruiting grounds for gangs.
"We do not need our young kids out here being recruited when they do not know the difference," Seay said Monday.
Reynolds said he supports increasing support for school resource officers and including them in the new gang task force. The state cannot "arrest your way out of" the problem of gangs in Georgia, he said Monday.
"There has to be a joint effort by communities, by churches, by schools, by everyone else to make sure these young kids … have a different option," Reynolds said.
Kemp, responding to criticism Thursday, said the state should help community organizations like schools and churches reach young people before they join gangs but did not elaborate on how to do so.
"We need to let young people know that there are better options, a brighter future for those who work hard, stay out of trouble and embrace the opportunities in front of them," Kemp said.