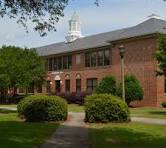 Fort Valley State University
ATLANTA – U.S. Sen. Raphael Warnock, D-Ga., introduced legislation Wednesday aimed at ensuring the nation's 1890 land-grant universities, including Georgia's Fort Valley State University, receive their fair share of state funding.
Under federal law, states are obligated to provide equitable funding for all land-grant universities. However, historically Black land-grant universities have often been shortchanged.
"Our 1890 land-grant institutions have been punching way above their weight for far too long," Warnock said Wednesday. "This legislation will bring us one step closer to ensuring historically Black land-grant universities get the funding they're due. This is a win for Georgia students, Georgia farmers, and Georgia's economy."
According to the Biden administration, 1890 land-grant institutions are owed more than $13 billion in federal funding they should have received during the last three decades, including more than $600 million owed to Fort Valley State.
Congress passed legislation in 1890 establishing 19 Historically Black Colleges and Universities (HBCUs), with a goal of boosting research and teaching in the agricultural and food sciences. While Georgia has several HBCUs, Fort Valley State is the state's only 1890 land-grant institution.
"We have made some very good progress in a number of states over the last few years," said Paul Jones, president of Fort Valley State and chairman of the Council of 1890 University Presidents. "I'm hopeful that this effort will help us reach equity across our 19 universities from their respective states."
Warnock is cosponsoring the Senate bill with Sen. Sherrod Brown, D-Ohio. A companion bill has been introduced in the U.S. House of Representatives by Democratic Reps. Alma Adams of North Carolina and Marilyn Strickland of Washington.