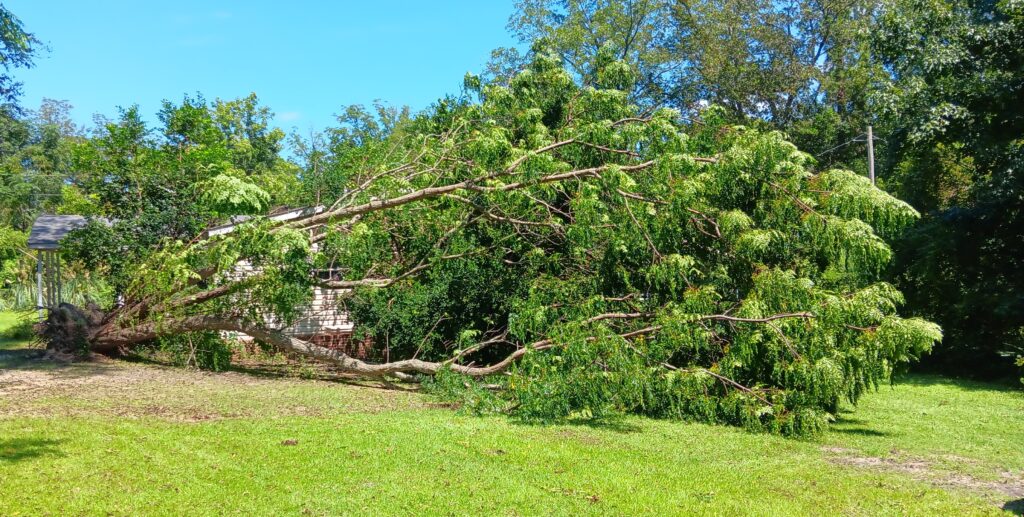 Hurricane Idalia felled a large chinaberry tree in western Bulloch County Aug. 30. PHOTO by Eddie Ledbetter
ATLANTA – The federal government is expanding the area of South Georgia eligible for assistance for residents affected by Hurricane Idalia.
The Georgia Department of Labor announced Wednesday that workers in two additional counties – Berrien and Brooks – may be eligible for federal Disaster Unemployment Assistance (DUA) to compensate them for income lost directly resulting from the storm, which tore a path through South Georgia on Aug. 30.
"We appreciate the federal government providing disaster relief to hardworking Georgians affected by Hurricane Idalia," state Commissioner of Labor Bruce Thompson said. "Federal unemployment benefits are a crucial lifeline, delivering financial stability while our communities recover and work to restore normalcy."
Applicants may be eligible for a weekly benefit of as much as $365 dating back to the week of Sept. 3.
Individuals directly affected by Hurricane Idalia must first apply for regular unemployment insurance on the Georgia Department of Labor (GDOL) website at dol.georgia.gov or in person at any of the agency's career centers. The department will notify claimants if they are also eligible to file for DUA. The deadline for applications is Friday, Nov. 3.
Meanwhile, the U.S. Department of Agriculture's Food and Nutrition Service has approved a waiver request by the Georgia Department of Human Services that will make it easier for residents of 17 South Georgia counties affected by the hurricane to get food stamps.
Because of the waiver, applicants for benefits won't have to appear at the local Supplemental Nutrition Assistance Program (SNAP) office to sign an affidavit attesting to food loss due to power outages that occurred during the storm. Benefits will be issued to SNAP households that received benefits between Aug. 15 and Aug. 30 by means of an automated credit.
The 17 counties covered by the USDA waiver are Appling, Atkinson, Berrien, Brantley, Brooks, Charlton, Clinch, Coffee, Cook, Echols, Glynn, Irwin, Long, Lowndes, McIntosh, Pierce, and Ware.