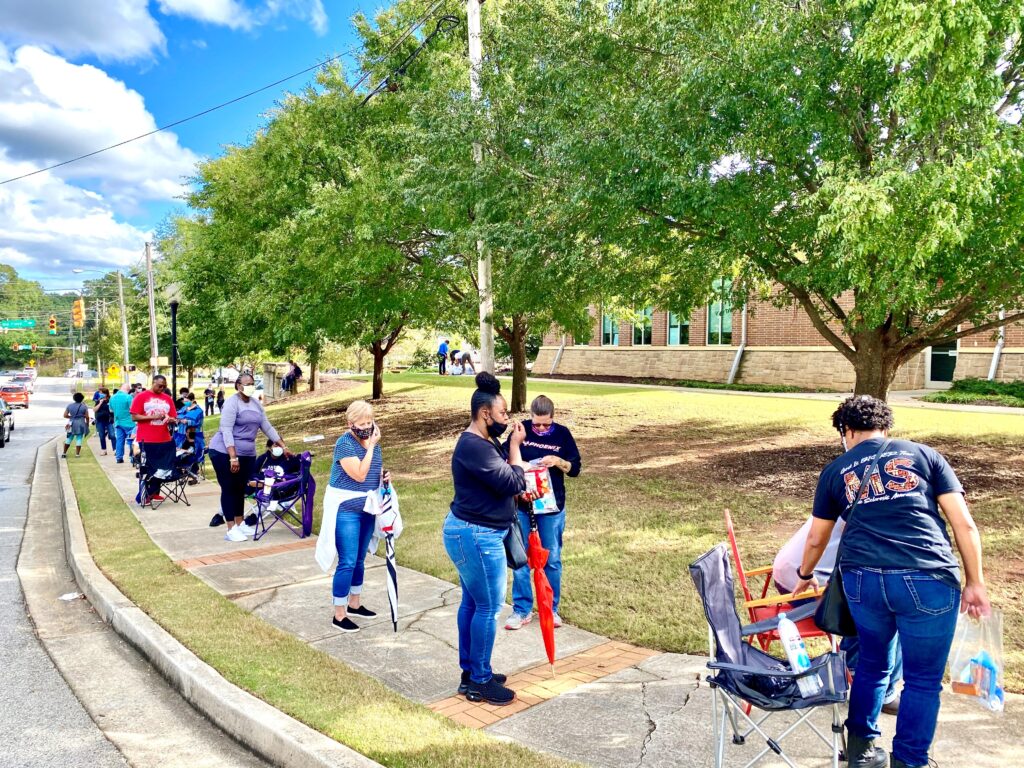 ATLANTA – At least 13 Georgia counties will be holding weekend early voting this Saturday ahead of the Dec. 6 U.S. Senate runoff election between incumbent Democrat Raphael Warnock and Republican challenger Herschel Walker.
Counties including Chatham, Clarke, Clayton, Cobb, DeKalb, Fulton, Gwinnett, Muscogee, and Walton counties are moving forward with weekend early voting after the Georgia Court of Appeals turned back a challenge mounted by Secretary of State Brad Raffensperger's office.
Immediately after the results of the Nov. 8 election put Warnock and Walker into a runoff, the secretary of state's office indicated that Saturday, Nov. 26, would be set aside as a weekend early voting day.
Subsequently, however, Raffensperger said it would be illegal to hold early voting on that day, citing a state law that prohibits runoffs on any day immediately following a state holiday. Besides Thanksgiving Day this Thursday, Friday is a state holiday.
The Warnock campaign, the Democratic Senatorial Campaign Committee, and the Democratic Party of Georgia filed a lawsuit arguing the law the secretary of state cited applies to primary and general elections but not to runoffs.
A Fulton County Superior Court judge ruled late last week in favor of the plaintiffs, and the state Court of Appeals upheld that decision on Monday.
"This ruling is a victory for every Georgia voter," Quentin Fulks, Warnock's campaign manager, said in a joint statement with the two other plaintiffs. "We look forward to counties across the state providing voters the opportunity to cast their ballots on Saturday, November 26th."
The Georgia Republican Party, Republican National Committee (RNC) and National Republican Senatorial Committee have joined forces to appeal the decision to the Georgia Supreme Court.
"Georgians deserve better than Democrats scheming to change election laws in the 11th hour," RNC Chairwoman Ronna McDaniel said Tuesday. "This flawed ruling benefits a handful of wealthy Democrat counties at the expense of basic election integrity and cannot be allowed to stand."
The court ruling makes weekend early voting optional for Georgia's 159 counties.
Voting rights groups urged county election officials Tuesday to allow weekend early voting in their communities.
"Georgians deserve more than five or six days of early voting," said Stephanie Ali, policy director for the New Georgia Project.
"Weekend early voting options should be universal and not be dependent on where in the state a voter lives, added Aunna Dennis, executive director of Common Cause Georgia.
"I have no doubt that the people of our state will overcome those barriers in this December 6 runoff election and turn out to vote. But we, the people, need to keep pushing for equitable access to the ballot in our state so that we can work towards building a government that truly is of, by, and for the people."
Mandatory early voting statewide will run from Monday, Nov. 28, through Friday, Dec. 2.
This story is available through a news partnership with Capitol Beat News Service, a project of the Georgia Press Educational Foundation.