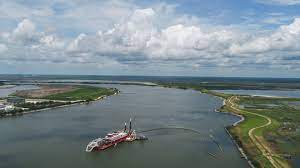 ATLANTA – The deepening of Savannah Harbor has been completed seven years after the $1 billion project began, the U.S. Army Corps of Engineers announced Wednesday.
The harbor has been deepened from 42 feet to 47 feet to accommodate the giant containerized cargo ships now calling at the Port of Savannah regularly with fewer weight and tidal restrictions.
"A deeper channel means more than just efficient passage for the largest vessels calling the U.S. East Coast," Griff Lynch, executive director of the Georgia Ports Authority, said Thursday. "It means continued opportunity, job growth and prosperity for the state of Georgia."
Savannah is the nation's third busiest port and has been the fastest growing during the last decade. It handled 9.3% of total U.S. containerized cargo volume and 10.5% of all U.S. containerized exports in fiscal 2020.
The dredging project is expected to net more than $291 million in annual benefits to the nation.
The work took longer to plan -15 years – than it did to build. Extensive environmental mitigation was involved, including the construction of a fish bypass around the New Savannah Bluff Lock & Dam up the Savannah River near Augusta, a freshwater impoundment for the city of Savannah's water treatment plant and recovery of the Civil War ironclad CSS Georgia from the bottom of the river.
This story is available through a news partnership with Capitol Beat News Service, a project of the Georgia Press Educational Foundation.