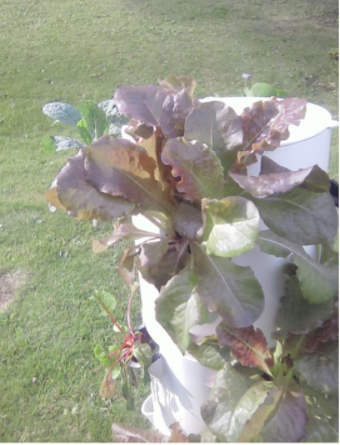 An Augusta-area resident who has taken on the challenge of bringing healthy food choices to his historically impoverished community plans to take his findings to a special state Senate committee investigating food deserts and food insecurity. 
Javon Armstrong lives in Sand Hills, an historic African American neighborhood in west Augusta also known as Elizabethtown adjacent to the National Register-listed Summerville Historic District.
"Our community has been stagnant for too many years," Armstrong said. "We have an abandoned elementary school, Weed School, a quarter mile from Augusta University which is a perfect representation of our potential wasting away. It's been empty for over 50 years."
Earlier this week, the Senate Study Committee on Improving Access to Healthy Foods and Ending Food Deserts was told by numerous experts that Georgia has one of the highest densities of so-called food deserts in the nation. Food deserts are geographical areas where healthy food is inaccessible or expensive.  
>> Georgia ranks high in food deserts, insecurity, lawmakers told
"We are the standard food desert with little access to healthy choices," Armstrong said. "To quote (18th century French lawyer and politician) Jean Anthelme Brillat-Savarin, 'tell me what you eat, and I'll tell you who you are,' which doesn't say much about you when your diet consists of chips, soda and lo mein." 
Armstrong is hoping to tackle the issue of food insecurity by developing tower gardens, which he has already planted in his front yard.
Armstrong describes tower gardens as a soil-free growing system that can save up to 98% more water than a traditional garden.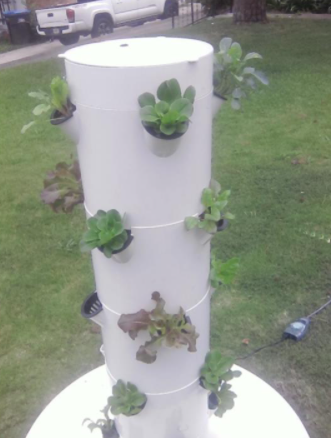 "They're also vertical, which means you need only 10% of the space to grow," he said.
The towers are sold through Juice Plus, a nutritional supplement company. The towers come individually as family gardens (three towers), community gardens (12) or tower farms (50 to 100). Each tower holds 28 plants.
Armstrong said he came across tower gardens back in 2018, when the Georgia Organics Convention was held in Augusta.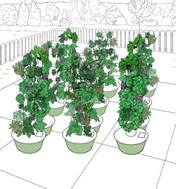 "We had a Winn Dixie in the community back in the '80s, but ever since then, it's Chinese food and corner stores," he said. "Kids here don't have a viable diet, and while it'd be great to get a community grocery store, we're not going to get one anytime soon. We need solutions now."
Armstrong has already spoken with state Sen. Harold Jones, D-Augusta, who introduced the resolution that created the study committee, and some local officials. He envisions a scenario where residents can eat and sell excess produce to restaurants and farmers markets, and community gardens in Sand Hills, then other Augusta-area communities.
This story is available through a news partnership with Capitol Beat News Service, a project of the Georgia Press Educational Foundation.