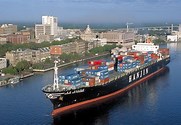 ATLANTA – The beginning of a new fiscal year meant more records at Georgia's two coastal ports.
The Port of Savannah handled 450,000 twenty-foot equivalent units (TEUs) of containerized cargo last month, an increase of 25% over July of last year, the Georgia Ports Authority reported Monday.
Cars and other machinery units at the Port of Brunswick were up 39% in July compared to July 2020.
Savannah's Garden City Terminal has set container trade records in nine of the last 10 months, despite the supply chain disruptions brought on by the coronavirus pandemic. In Brunswick, four of the top 10 months for roll-on/roll-off trade have occurred since last October.
"Consumer demand and the addition of extra loader vessels [are] driving a prolonged surge in volumes," ports authority Executive Director Griff Lynch said.
Meanwhile, work continues on a series of improvements that will add more capacity, particularly at Savannah.
The first of two space-adding projects at the Garden City Terminal is due to open this fall, adding 700,000 TEUs of container capacity. The second phase of the expansion will open in 2023.
"We're expecting continued elevated demand in both Brunswick and Savannah through at least the end of 2021," said Joel Wooten, chairman of the ports authority's board.
Another major project, the Mason Mega Rail Terminal, is scheduled to be finished by October. The terminal will add 18 working railroad tracks at Savannah, which will double the port's rail lift capacity to 2 million TEUs per year.
Also, the long-awaited deepening of Savannah Harbor is 90% complete. Increasing the depth of the harbor from 42 feet to 47 feet will allow the new generation of super-sized containerized cargo ships to get into and out of the Port of Savannah with greater scheduling flexibility.