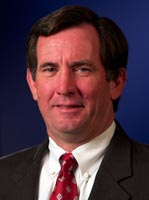 Mark Williams
ATLANTA – Longtime Georgia Commissioner of Natural Resources Mark Williams is leaving the post to take the reins at the Jekyll Island Authority.
Williams announced his upcoming departure from the DNR Tuesday at the state Board of Natural Resources' monthly meeting. At about the same time Williams was speaking, the Jekyll Island Authority board was naming him to succeed the retired Jones Hooks as executive director effective July 1, The Brunswick News reported Tuesday.
"It has been my absolute honor to serve you for 14 years," an emotional Williams told DNR board members. "I've never dreaded a day's work in this office."
Williams will get to spend more time with his family in his new post. He lives in Wayne County, and the Republican represented House District 178 in the Georgia House of Representatives from 2007 until 2010.
The Jekyll Island board set Williams' base salary at $250,000 per year, according to The Brunswick News, with a performance incentive of up to $25,000 and a vehicle allowance of up to $10,000 annually. His annual salary at the DNR is $180,000, according to the government transparency advocacy nonprofit OpenTheBooks.
In other business at Tuesday's DNR Board meeting, board members voted to increase the salary of Rick Dunn, director of the state Environmental Protection Division, from $175,000 per year to $190,000.
Board member Ray Lambert, chairman of the board's Environmental Protection Committee, said Dunn previously turned down a raise, directing it instead to the agency's staff.