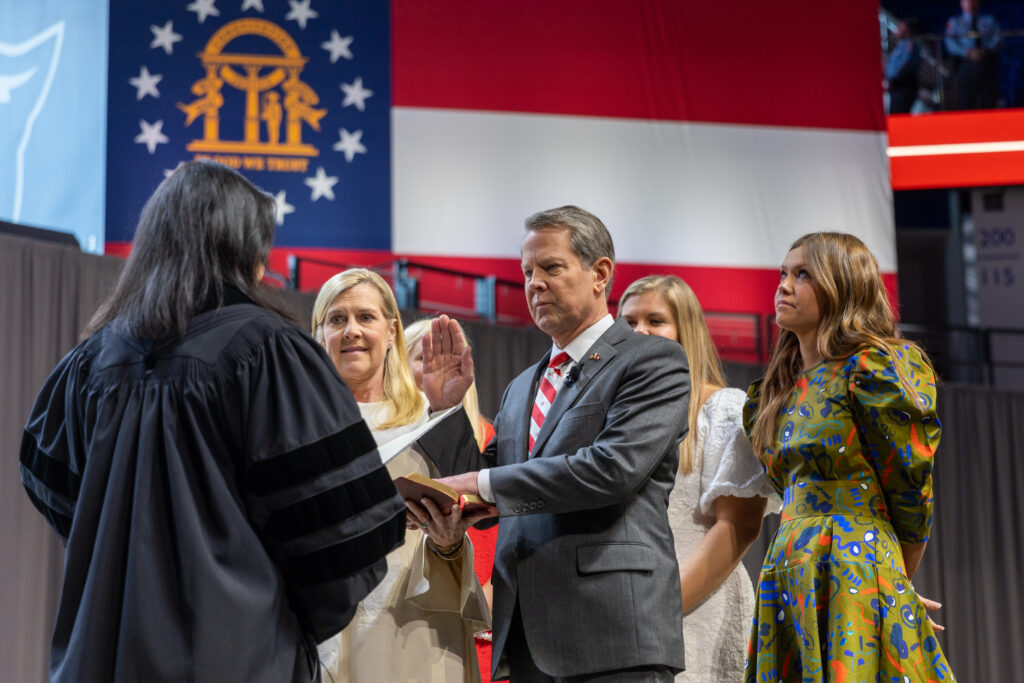 ATLANTA – State employees will get a $2,000 pay raise if Gov. Brian Kemp can get the General Assembly to approve his budget request.
Law enforcement officers, school employees, and other state workers all need the raise, Kemp said during an inaugural address Thursday that marked the start of his second term as Georgia's governor.  
"If you want to keep good people in jobs critical to the safety and well-being of our children, our communities and our state as a whole, we must be willing to be competitive with state salaries," Kemp said.
Kemp also said he plans to use part of the state's current record surplus to fund a one-time $1 billion income tax refund for Georgians. He pushed through a similar income tax refund last year.
The governor is also recommending the state spend $1.1 billion to provide homeowners with a property-tax relief grant.
"We are putting you and your families first because that's your money, not the government's," Kemp said.
Kemp plans to request $150 million for grants that school districts can apply for to address pandemic learning loss and security needs. Some of the funding will also be designated to help current paraprofessionals become certified teachers.
And Kemp promised to continue to build on his success in bringing high-tech manufacturing facilities to the state. He pointed to Archer Aviation's plans to hire 1,000 people to build electric vertical take-off and landing aircraft as well as Hyundai and Rivian electric vehicle manufacturing plants and an SK battery facility as prime examples of his administration's commitment to economic growth.
"By the end of my second term, I intend for Georgia to be recognized as the electric mobility capital of America," Kemp told the crowd of lawmakers and supporters.
Republicans won all of the state's constitutional offices in the November elections. Those officials were also sworn in during the inauguration event at the Georgia State University Convocation Center in downtown Atlanta.
Three former state senators took the oath of office for their new statewide roles. Burt Jones was sworn in as lieutenant governor, Tyler Harper as agriculture commissioner and Bruce Thompson as labor commissioner.  
The occasion also marked the start of new terms for Secretary of State Brad Raffensperger, Attorney General Chris Carr, Commissioner of Insurance John King, and State School Superintendent Richard Woods.
Now that the inauguration formalities are over, elected officials can turn their attention to the state's budget. Kemp is expected to release further details of his spending recommendations Friday, and the House and Senate Appropriations Committees will begin three days of budget hearings Jan. 17. 
This story is available through a news partnership with Capitol Beat News Service, a project of the Georgia Press Educational Foundation.