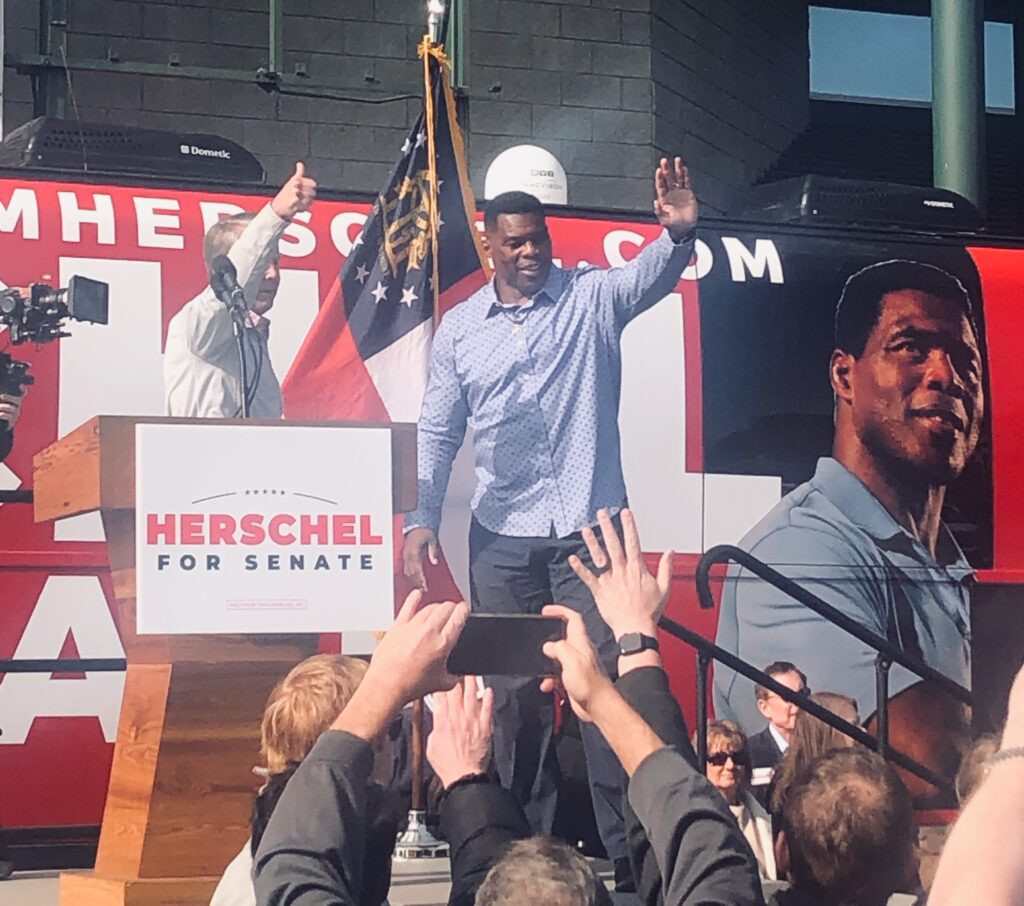 SMYRNA – Recently re-elected Republican Gov. Brian Kemp campaigned Saturday on behalf of former University of Georgia football star and U.S. Senate candidate Herschel Walker, who is facing a Dec. 6 runoff for Georgia's U.S. Senate seat.
"Look, we cannot rest on our laurels here," Kemp said to the Walker supporters gathered in a parking lot in Cobb County.
"Who do you want to fight for you in the United States Senate? Do you want a guy that represents our values like Herschel Walker or do you want a guy who's stood with Joe Biden 96% of the time?
"This is going to be a turnout election – who's more motivated?  Is it them or us?," Kemp said, urging Georgia Republicans to take advantage of early voting and vote as soon as possible. 
"I know Herschel Walker will do like we've done in Georgia, be fiscally conservative," Kemp added.
The joint appearance represents a departure from fall campaign events, when Kemp and Walker kept their distance from each other and ran separate campaigns.
Though Kemp defeated Democratic challenger Stacey Abrams for the governor's seat, Republican Walker fell short of incumbent Democratic Sen. Raphael Warnock by about 38,000 votes in the Nov. 8 general election. Because neither candidate earned more than 50% of the vote, the two face a Dec. 6 runoff.
Kemp and Walker blamed Warnock and President Joe Biden for inflation. Kemp touted steps Georgia has taken under his leadership to address economic pressures, such as temporarily lifting the gas tax.
"We need someone in Washington that's gonna …. row the boat with Governor Kemp," Walker told the crowd. "What [Warnock has] been doing is rowing the boat against Governor Kemp."
"He [Warnock] voted to put men in women's sports. Men shouldn't be in women's sports," Walker said. "It's written in my Bible and it says woman came from the rib of the man. Senator Warnock need[s] to read his Bible."
"They want to bring wokeness in our school house," Walker added. "Instead of teaching our kids how to read and write, they want to teach them about [critical race theory]. … That won't happen on my watch."
Early voting in the runoff is due to begin on Saturday, Nov. 26.
This story is available through a news partnership with Capitol Beat News Service, a project of the Georgia Press Educational Foundation.