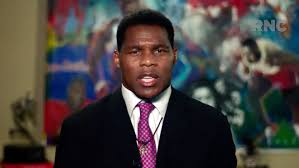 ATLANTA – Republican U.S. Senate candidate Herschel Walker has agreed to debate incumbent Democratic Sen. Raphael Warnock Oct. 14 in Savannah.
For weeks, Warnock has been criticizing Walker for not agreeing to a specific schedule of debates. Walker has responded by saying said he would be ready to debate his opponent but only under "fair and equitable" terms.
The one-hour Savannah debate will take place before a live audience of about 500.
"I'm not going to obey the demands of the elite press and the liberal establishment to stand in an empty room for a debate that is supposed to be about the people," Walker said in a video statement released Tuesday night.
"I accepted a debate that's about the voters. I'm leaving the media elite behind and taking my message right to the people."
Warnock campaign manager Quentin Fulks said the senator would like to see more than one debate.
"Two months ago, Reverend Warnock accepted invitations to three well-established Georgia debates in Atlanta, Savannah, and Macon to be broadcast statewide, after Herschel Walker said he would debate Reverend Warnock anywhere, anytime," Fulks said.
"Nothing has changed. Reverend Warnock remains committed to debating Herschel Walker and giving Georgians three opportunities to see the clear choice about who is ready to represent Georgia."
If only the Oct. 14 debate takes place, it would be in a Republican-friendly area of the state and away from metro Atlanta, which Warnock dominated on the way to his election victory in January of last year. However, Savannah also is Warnock's hometown.
The Savannah debate will be televised by Fox 5 Atlanta, the Nexstar Media Group markets serving Georgia in Augusta, Savannah, Columbus, Spartanburg, S.C., and Dothan, Ala. It also will air on the Sinclair-owned stations in Macon and Albany.
This story is available through a news partnership with Capitol Beat News Service, a project of the Georgia Press Educational Foundation.