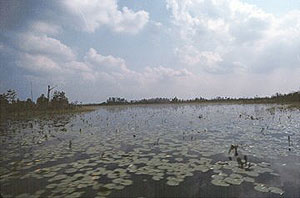 ATLANTA – The group Georgia Conservation Voters (GCV) is running a digital ad calling attention to a controversial proposal to mine titanium near the Okefenokee Swamp.
The 18-second ad, which is appearing on Facebook and Instagram, shows video footage of the Okefenokee with a written script describing the importance of the swamp and the potential harm a nearby mine could wreak on wildlife, the environment, and tourism. It features an instrumental music track but no narration.
The ad also refers to $40,000 in campaign contributions Republican Gov. Brian Kemp has received from executives with Alabama-based Twin Pines Minerals and its lobbyists.
"The Okefenokee is a national treasure that belongs to our country and the people of Georgia, not private companies," GCV spokesman Abraham Park said Friday. "The mine proposed by Twin Pines not only puts the integrity of the swamp at risk, but also endangers the communities that depend upon it for their livelihood.
"We need a governor who will protect the Okefenokee, not sell it out for campaign contributions from an Alabama mining company run by former coal miners with a history of pollution."
Twin Pines is seeking permits from the Georgia Environmental Protection Division to mine titanium dioxide at a site three miles from the swamp.
Environmental groups including the Georgia Conservancy say the mine could damage adjacent wetlands by lowering water levels, permanently affecting the hydrology of the largest black water swamp in North America.
Georgia Rep. Darlene Taylor, R-Thomasville, introduced bipartisan legislation this year to ban mining near the Okefenokee. While the bill failed to make progress in the House, lawmakers did adopt a nonbinding resolution during the final week of the 2022 legislative session calling for protecting the swamp as a valuable tourism resource.
While Kemp has declined to weigh in on the debate over the mine, Democratic gubernatorial candidate Stacey Abrams has said she opposes the project.
The Kemp campaign did not respond immediately to a request for comment on the ad.
The GCV ad will continue running through Nov. 9, the day after Election Day, and can be found at https://www.facebook.com/ads/experience/confirmation/?experience_id=957196898571708&is_responsive=0.
This story is available through a news partnership with Capitol Beat News Service, a project of the Georgia Press Educational Foundation.