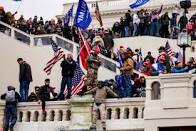 ATLANTA – A Georgia member of the right-wing anti-government group Oath Keepers pleaded guilty Friday to seditious conspiracy and obstruction of an official proceeding in connection with the Jan. 6, 2021, attack on the U.S. Capitol.
Brian Ulrich, 44, of Guyton, agreed to cooperate with the government's ongoing investigation as part of the plea agreement, the U.S. Justice Department announced in a news release.
Ulrich admitted taking part in disrupting a joint session of Congress convened to count the Electoral College votes in the 2020 presidential election. The count was delayed for about six hours after riotous protesters took over parts of the Capitol building and lawmakers and Vice President Mike Pence, who was presiding over the count, were whisked to safety.
Ulrich also admitted that from November 2020 through January 2021, he conspired with other Oath Keepers members and affiliates to plan the attack. He and others used encrypted and private communications, equipped themselves with a variety of weapons, donned combat and tactical gear, and were prepared to use force to stop the transfer of power from then-President Donald Trump to Joe Biden.
Ulrich purchased tactical gear and other items, including two-way radio receivers, a recon backpack, a tactical holster, a medical tourniquet, and a half-skull motorcycle helmet. On Jan. 4, he traveled with other Oath Keepers to Washington, D.C., staying in a downtown hotel.
On Jan. 6, after learning the Capitol had been breached, Ulrich and others traveled to the Capitol on golf carts and drove around multiple barricades, including marked law enforcement vehicles. He and others weaved through a restricted area in a military "stack" formation, with hands on shoulders, and marched in a line up the stairs on the east side of the Capitol.
The group entered the building and went toward the entrance to the Rotunda as law enforcement officers were attempting to clear the area. After officers deployed chemical-irritant spray, Ulrich left the Capitol and gathered with other co-conspirators about 100 feet from the building.
In the aftermath of Jan. 6, Ulrich continued to communicate with co-conspirators, urging them to "stay below the radar."
Ulrich was arrested in Guyton last August. He was among 11 defendants indicted in January on seditious conspiracy and other charges.
Ulrich was the second Oath Keepers member to plead guilty to the charges. Joshua James, 34, of Arab, Ala., pleaded guilty in March.
Ulrich faces up to 20 years in prison for seditious conspiracy and up to 20 years for obstruction of an official proceeding, along with potential financial penalties. No sentencing date has been set.
In the 15 months since the Jan. 6 attack, nearly 800 people have been arrested in nearly all 50 states for crimes related to the breach of the Capitol. More than 250 are charged with assaulting or impeding law enforcement officers.
This story is available through a news partnership with Capitol Beat News Service, a project of the Georgia Press Educational Foundation.