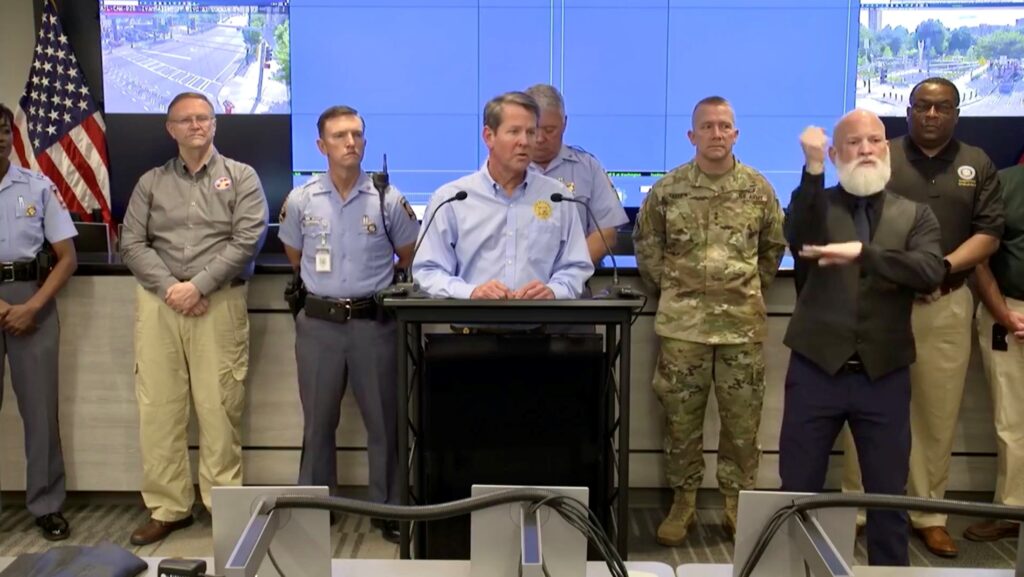 ATLANTA – The multi-agency Crime Suppression Unit Gov. Brian Kemp put together last April to fight a crime wave apprehended 26 murder suspects and made 214 drug arrests during its first year in operation.
Kemp gave a progress report on the unit on Wednesday. The state and metro-Atlanta law enforcement agencies that make up the unit also arrested 451 wanted persons, made more than 23,600 vehicle stops – including 588 for driving under the influence – and impounded about 1,300 vehicles, the governor reported.
"We're going to keep chopping, keep up the good work and go even harder in taking the fight to the street gangs and criminals," Kemp said.
Kemp put together the unit in response to a rise in violent crime that accompanied the coronavirus pandemic. Coordinated by the Georgia Department of Public Safety, the unit includes the Georgia Bureau of Investigation, the state Department of Natural Resources, the Georgia Department of Community Supervision, the Atlanta Police Department and the Fulton County Sheriff's Office.
The Crime Suppression Unit also has been active in other Georgia cities including Columbus and Macon.
Col. Chris Wright, commissioner of the Department of Public Safety, said the unit also has arrested nine major street-racing organizers in the Atlanta metro region.
"Proactive policing and high visibility patrols result in crime reduction and improve the quality of life for our citizens," he said. "We share the governor's vision of reducing crime and making Georgia communities safer."
This story is available through a news partnership with Capitol Beat News Service, a project of the Georgia Press Educational Foundation.