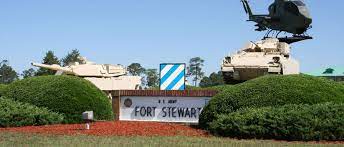 ATLANTA – Troops from Georgia's Fort Stewart will make up the major portion of 7,000 U.S. service members being deployed to Europe following the Russian invasion of Ukraine.
Secretary of Defense Lloyd Austin has ordered troops from the 1st Armored Brigade Combat Team of the Army's 3rd Infantry Division to Germany "to reassure NATO allies, deter Russian aggression and to be prepared to support a range of other requirements in the region," said a senior defense official speaking on background.
The 7,000 troops will bring to 12,000 the total U.S. service personnel who have deployed or been ordered to deploy to Europe from the United States. Another 2,000 troops already in Europe have moved closer to NATO's eastern flank.
Those troops join 80,000 U.S. service members based in Europe. Counting service personnel from NATO countries, the number of troops on the continent is more than 2 million.
Russian troops began pouring into Ukraine from three directions Wednesday on orders from Russian President Vladimir Putin.
Russia has launched at least 160 short-range and medium-range cruise missiles into Ukraine from land, sea and air, the defense official said. The missiles are being aimed mostly at miliary bases and airfields around Kharkiv and Kyiv, the Ukrainian capital.
More than 50,000 Ukrainians have fled the country in the last 48 hours, most taking refuge in neighboring Poland or Moldova.
While the U.S. troops will deploy to Germany initially, they could be repositioned to other NATO countries as needed. President Joe Biden has vowed not to send U.S. soldiers into Ukraine, which is not a member of NATO.
"We expect them to depart [the United States] in coming days," the official said.
Fort Stewart, located in Hinesville, has a long history of rapid troop deployments overseas. Troops from the Army base served combat tours both in Iraq and Afghanistan.
This story is available through a news partnership with Capitol Beat News Service, a project of the Georgia Press Educational Foundation.