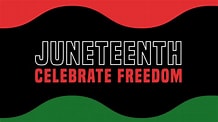 ATLANTA – State workers will get a day off to observe Juneteenth for the first time this year, subject to the approval of the General Assembly.
A memo Gov. Brian Kemp sent to state agency heads last week lists Juneteenth – marking the freedom of enslaved Americans at the end of the Civil War – as one of 13 holidays when state offices will be closed.
The holiday will be observed on June 20 this year because June 19 – the actual Juneteenth holiday – falls on a Sunday.
The additional holiday requires legislative approval because current Georgia law only lists 12 state holidays. Legislation pre-filed in the state House of Representatives last week by Rep. Lauren McDonald, R-Cumming, one of Kemp's floor leaders in the House, would authorize a 13th state holiday.
McDonald's bill also requires Georgia to observe all federal holidays. President Joe Biden signed legislation last June officially designating Juneteenth as a federal holiday.
Juneteenth, a contraction of "June" and "nineteen," marks the date in 1865 when Union Army Gen. Gordon Granger issued General Order No. 3 in Galveston, Texas, proclaiming the end of slavery in the Lone Star State.
President Abraham Lincoln's Emancipation Proclamation, which took effect Jan. 1, 1863, only applied to the 11 Confederate states, realistically areas of those states under Union control. It took the Union winning the war to enforce emancipation throughout the South.
This story is available through a news partnership with Capitol Beat News Service, a project of the Georgia Press Educational Foundation.