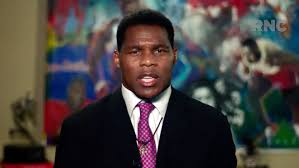 ATLANTA – Herschel Walker's Heisman Trophy-winning football exploits at the University of Georgia should be enough to win him the Republican nomination for the U.S. Senate next spring on name recognition alone.
But political observers say his lack of political experience, personal baggage and close ties to former President Donald Trump render his hopes of defeating incumbent Democratic Sen. Raphael Warnock in the 2022 general election more problematic.
Walker toted the football for UGA at a high point for the Bulldogs program, leading the way to a national championship in 1980 and capturing the Heisman as college football's player of the year in 1982.
"Those who remember his success at UGA will give him a leg up in name recognition," said Charles Bullock, a longtime political science professor at the university in Athens.
The other three candidates who preceded Walker's entrance into the Republican Senate race last Wednesday don't come close to matching his name ID.
Neither Latham Saddler, an Atlanta banking executive and former Navy SEAL officer, nor Kelvin King, a small business owner and Air Force veteran from Atlanta, has ever run for public office.
Although Georgia Agriculture Commissioner Gary Black has been elected statewide three times, the ag post is well down the ballot and doesn't tend to produce household names.
Saddler and King responded to Walker's candidacy by questioning the relevance of his football experience decades ago to the challenges facing Congress today.
"This campaign isn't about the glories of yesterday," Saddler said. "Georgians want a next-generation conservative leader who can beat Raphael Warnock."
"He was a legend on the football field," King conceded. "But this is not football."
Black aired a TV ad several weeks ago when Walker's candidacy was rumored but not official pointing out the native of rural Wrightsville, Ga., has lived in Texas for decades, while Black has lived in Georgia all his life.
Walker has responded since then by registering to vote in Georgia, using an Atlanta address.
There are examples of football celebrity leading to the halls of Congress. Former University of Oklahoma quarterback J. C. Watts and Pro Football Hall of Fame wide receiver Steve Largent both served in the U.S. House of Representatives during the 1990s and early 2000s representing Oklahoma.
Former Auburn University head football coach Tommy Tuberville was elected last year to represent Alabama in the Senate.
Unlike Walker, who earned his football accolades nearly 40 years ago, Tuberville's football stardom is of much more recent vintage.
But Bullock said the decades that have passed since the Walker era at UGA likely won't hurt his chances for the Republican Senate nomination because of the makeup of the GOP electorate in Georgia.
"The voters in the Republican primary are going to be white, older voters," Bullock said. "They're more likely to remember his glory days."
Bullock said another advantage Walker will enjoy with GOP voters is his close ties with Trump. Their friendship goes back to 1984, when Trump was part owner of the New Jersey Generals of the upstart United States Football League, where Walker began his pro career.
Trump publicly touted Walker's potential as a Senate candidate for weeks before he decided to entry the fray, and Georgia's Republican Party remains full of Trump loyalists convinced last year's presidential election was rigged, despite numerous court rulings to the contrary.
"A component of the [primary] electorate will say, 'He's Trump's man. That's all we need to know,' " Bullock said.
But to the extent Trump helps Walker in the Republican primary, his close ties to the former president likely will hurt him in the general election, Bullock said. That has Georgia Republicans who want the party to move away from Trump worried.
"I do not know a single credible Republican strategist in Georgia or Washington who thinks [Walker] can be beaten in the primary," wrote Erick Erickson, an Atlanta-based conservative radio host. "I do not know a single credible Republican strategist who thinks he can win the general."
Republicans also are wary of the negative press coverage that has already emerged of Walker's struggles with mental illness and court records claiming violent behavior.
"If any Republican in Georgia told you they didn't have concerns about his candidacy, they'd be lying to you. We all have concerns," Chip Lake, a Georgia-based GOP strategist told Roll Call, a Washington, D.C., newspaper and website that covers Congress.
Still, Walker's formidable image as a candidate has chased some candidates out of the Senate race. U.S. Rep. Buddy Carter, R-Savannah, had been thinking about running but has now endorsed Walker.
Former Republican Sen. Kelly Loeffler, who lost to Warnock last January in a runoff, has said she will wait and see how Walker is faring in the contest before deciding whether to become a candidate.
But the current candidates are staying put, at least for now, and urging Walker to get out on the campaign trail and debate the issues with them.
"We need to have this discussion," Black said in a video his campaign released shortly after Walker declared his candidacy. "It's about the future of our country."