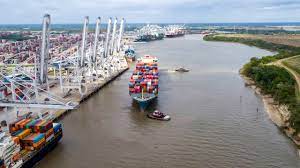 ATLANTA – The Port of Savannah has become the first container port in the Southeast or on the Gulf Coast to move more than 5 million twenty-foot equivalent units (TEUs) of cargo in one year.
The port handled 5.3 million TEUs during fiscal 2021, which ended June 30, a 20% increase over the previous year, the Georgia Ports Authority (GPA) reported Monday.
The record came during a difficult year that saw major disruptions to supply chains around the globe.
"GPA leadership, our employees and our partners across the logistics community put in a tremendous effort to make this milestone possible," said Joel Wooten, incoming chairman of the ports authority's board.
"Growing our business by 20 percent in a single year is an amazing accomplishment and secures Savannah's position as the fastest growing gateway in the nation over the past 10 years."
Part of the reason for the Port of Savannah's rapid growth in container traffic is that the authority added 210,000 TEUs of container capacity during fiscal 2021 by expanding container handling space and adding equipment at the port's Ocean Terminal.
The port also saw a 14% increase in rail volumes at Savannah's Garden City Terminal and a 26% increase in cargo lifts at the Appalachian Inland Port, a facility the ports authority opened in Northwest Georgia in 2017 primarily to bring exports by rail to Savannah.
Fiscal 2021 also was marked by progress on the multi-year deepening of Savannah Harbor, a $1 billion project now 90% complete and due to be completed in December. Another project expected to open this winter is the $220 million Mason Mega Rail, two sets of nine working tracks that will raise rail capacity at the Port of Savannah to 2 million TEUs per year.
"As port users continue to route additional cargo to Georgia, we are bullish on the future," said Griff Lynch, the authority's executive director. "We have an abundance of near-port property available for development, and GPA is right now adding millions of TEUs of additional capacity in Savannah."
The ports authority's trade in autos and heavy machinery also saw significant growth during the last fiscal year. Roll-on/Roll-off cargo reached 703,528 units, with the Port of Brunswick alone handling more than 685,000 units of vehicles and heavy machinery. Total Ro/Ro volume grew by 18% over fiscal 2020.