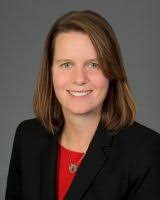 ATLANTA – The University System of Georgia Board of Regents Wednesday named state government veteran Teresa MacCartney acting chancellor of the system while the board continues its search for a permanent successor to the retiring Steve Wrigley.
MacCartney, who will take over the role July 1, has served as the university system's executive vice chancellor for administration since 2019, where she oversees departments including cybersecurity, human resources, legal affairs, economic development and real estate and facilities.
Before that, MacCartney was the state's chief financial officer and headed the Governor's Office of Planning and Budget. She also has held several other leadership roles throughout state government, including with the Georgia Student Finance Commission and state Department of Education.
"We are grateful to Teresa for stepping into this interim role," board Chairman Sachin Shailendra said Wednesday. "As a member of the university system's senior leadership team and a veteran public servant, she will keep a steady hand on USG's progress as the board finds the next chancellor of one of the top university systems in the nation."
"I appreciate the board's confidence in me to ensure USG and our 26 institutions remain focused during this transition on doing all we can to help more Georgians earn their college degrees," MacCartney said.

Wrigley announced in January he was retiring at the end of this month after 36 years in public service, including more than four years as chancellor.
The board has struggled to hire a successor. At one point, the regents were forced to retain a second executive search firm after the first quit the job.
Former Gov. and former U.S. Agriculture Secretary Sonny Perdue reportedly has won the support of some board members but not enough to land the job.
The board is working with the executive search firm WittKieffer in a national search for the next chancellor.