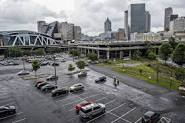 ATLANTA – The Georgia Supreme Court cleared the way Monday for the planned $5 billion redevelopment of an area of downtown Atlanta known as The Gulch.
In a unanimous decision, the court ruled the issuance of up to $1.25 billion in bonds to support the largest mixed-use development in the Southeast was "sound, feasible and reasonable."
A group of city taxpayers known as Redlight the Gulch had sued to stop the project, arguing the sales tax revenue the redevelopment likely would generate wouldn't be enough to pay back the bonds, leaving taxpayers holding the bag.
But the state Supreme Court upheld a lower court opinion that the evidence in the case justified holding the issuance of the bonds to be legally valid.
"While not all Atlantans, including the intervenors in this case, share the city's vision for The Gulch, that does not mean that the project is illegal," Chief Justice Harold Melton wrote for the court. "As the trial court pointed out, the job of the courts is not to question the advisability or estimate the popularity of the city's decisions regarding the development of The Gulch."
The Gulch consists of a series of sunken rail yards and parking lots that has languished for decades and is best known as a popular site for tailgate parties before and after football games at adjacent Mercedes-Benz Stadium.
Christened Centennial Yards, the ambitious mixed-used project will contain 12 million square feet of hotels, offices, retail shops and residences.