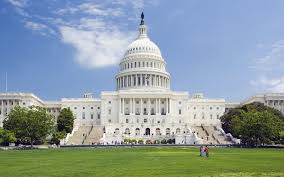 ATLANTA – Georgia's U.S. House delegation did not split along the usual party lines over controversial legislation raising the federal debt limit.
Ten House members from Georgia – including six of the delegation's 10 Republicans – voted Wednesday night in favor of an agreement hammered out by President Joe Biden and GOP House Speaker Kevin McCarthy to increase the debt limit for an additional two years in exchange for cuts in federal spending.
On the other hand, Democratic Rep. Nikema Williams of Atlanta bucked House Democratic leadership and the White House by voting against the bill, joining three Georgia Republicans in voting "no."
The House vote came as the nation faced a deadline of June 5 for raising the debt limit to avoid the U.S. government going into default for the first time in the nation's history, an event economists warned would trigger a recession.
To reach a deal with McCarthy, Biden agreed to keep non-defense spending relatively flat during the next fiscal year and increase it by just 1% in fiscal 2025.
"House Republicans held the American people hostage so they could inflict cruel cuts," Williams said following the vote. "I could not vote for an agreement that puts my constituents on the chopping block."
But Democratic Reps. Hank Johnson of Stone Mountain, Sanford Bishop of Albany, David Scott of Atlanta, and Lucy McBath of Marietta voted for the deal.
"I congratulate [the president] for a shrewdly negotiated debt ceiling bill that protects our economy, protects against MAGA hostage taking for two years, and protects Americans from cruel MAGA social safety net cuts," Johnson said.
On the other side of the aisle, Rep. Marjorie Taylor Greene, R-Rome, went against many of her conservative Republican colleagues and sided with McCarthy in voting for the bill.
"I agree with my conservative friends on some of the flaws in the FRA (Fiscal Responsibility Act), and I've never wanted to raise the debt ceiling on debt that I never voted to create," she said. "But I came to Washington to make changes, and this bill actually provides a tool that gives us a chance to make those fiscal changes."
Georgia Republicans joining Greene in voting for the legislation included Reps. Austin Scott of Tifton, Buddy Carter of Savannah, Barry Loudermilk of Cassville, Rick Allen of Augusta, and Drew Ferguson of West Point.
Republicans Andrew Clyde of Athens, Mike Collins of Jackson, and Rich McCormick of Suwanee voted against the legislation.
"At best, the 'Fiscal Responsibility Act' … is a modest attempt to address the skyrocketing national debt Congress has ignored for far too long," McCormick said. "Republicans had the ability to tackle this problem years ago when we had the White House and commanding majorities in Congress."
The bill, which cleared the House 314-117, now moves to the U.S. Senate for a vote later this week.