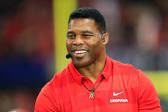 ATLANTA – Republican U.S. Senate candidate Herschel Walker raised more than $12 million during the last three months, the former University of Georgia football star's campaign reported Wednesday.
That's less than half of the more than $26 million incumbent Sen. Raphael Warnock, D-Ga., raised during the third quarter.
But the Walker campaign boasted his haul during July, August, and September was the largest quarterly total for any Republican Senate candidate during this election cycle.
"My team and I have traveled to every corner of Georgia, and everywhere we go, people have made it clear that Raphael Warnock has sided with [President] Joe Biden and left them behind," Walker said in a statement released Wednesday.
"The people are so fired up for a new warrior in Washington that they have literally put their money where their mouths are."
Walker's campaign manager, Scott Paradise, criticized Warnock for running "a gutter campaign focused on lies and personal attacks."
The Warnock campaign has bombed the airwaves with TV ads calling attention to Walker's violent past, including holding a gun to the temple of his ex-wife Cindy Grossman.
Walker has responded that he was suffering from dissociative identity disorder at that time, a mental illness from which he said he has recovered.
Walker's campaign reported Wednesday that the challenger had more than $7 million cash on hand as of the end of last month. A day earlier, the Warnock campaign reported $13.7 million cash on hand through Sept. 30.
This story is available through a news partnership with Capitol Beat News Service, a project of the Georgia Press Educational Foundation.