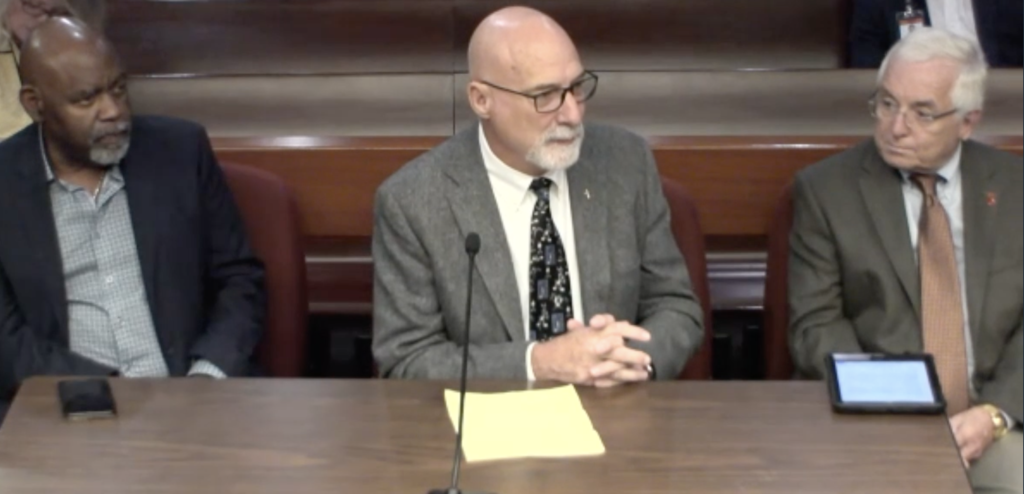 ATLANTA – Against the backdrop of hospital closures, state lawmakers Monday considered how to improve health care delivery across Georgia.
The House Governmental Affairs Local Service Delivery Subcommittee meeting – chaired by Rep. Darlene Taylor, R- Thomasville – gave doctors and health-care administrators a chance to explain how the state's health system works – and where it is falling short.
Local public health departments play an important role in delivering preventive care, said R. Chris Rustin, public health administrator for the Chatham County Health Department.
The 159 county boards of health, which serve 10.8 million Georgians, can provide routine vaccinations and many other basic services, he said.
But different county public health departments have different resources. Rustin compared the robust complement of services offered in Chatham with the nearby – but much smaller – McIntosh County Health Department. Both are part of the same public health district but vary widely in what they can offer.
When it comes to COVID, Chatham County can provide vaccination services five days a week, while McIntosh only offers the service one day a week by appointment, Rustin said.
Earlier in the pandemic, when testing was hard to get, Chatham County provided drive-through testing services six days a week, while McIntosh had much more limited services.
A large public health department like Chatham's can also offer extras like pediatric primary care, a dental clinic, a travel clinic, HIV care, and a garden to help people on public assistance programs access vegetables.
Rustin said public health departments all face staffing challenges. He said a career in a county health department is rewarding and comes with great benefits but pays below market rate, making staffing a challenge, especially in smaller counties like McIntosh.
Losing just one nurse in McIntosh amounts to losing half of the clinical staff, Rustin said.
No public health department will turn away a patient for lack of money, though the departments typically charge on an income-based sliding scale. They can also bill insurance, Rustin said.
Another important part of Georgia's health care infrastructure is the federally qualified primary health clinics – or FQHCs.
Georgians may know these as local low-cost clinics that provide a range of services, with names such as Oconee Valley Healthcare, Georgia Mountains Health Services, The Family Health Centers of Georgia (Atlanta) and South Central Primary Care. 
The doctors who run these clinics said they treat the whole patient and are accessible to everyone, including people on Medicaid, Medicare and private insurance. 
Challenges they face include transportation, staffing and providing dental care. 
The doctors said rural Georgia communities need emergency services, even if the community cannot support a full hospital. A lack of emergency services puts pressure on both patients and health care providers from the emergency service technicians who respond to 911 calls to doctors in distant hospitals who have to treat patients who have waited a long time for care.
The doctors said they believed Medicaid expansion would benefit Georgia.
"We will figure out how to make it work," said Dr. Steven Miracle of Georgia Mountains Health Center, who supports the idea. 
Hospital administrators also described challenges their facilities face, including staffing and transportation. 
Julie Windom, vice president of government relations for Atrium Health, said her company's two urban hospitals in Macon and Rome are often fully occupied.
The emergency rooms face serious challenges and are almost always full, Windom said. 
Although Navicent Macon is the second-largest hospital in Georgia (after Atlanta's Grady Memorial) with more than 600 beds, it usually has to close 90 to 120 beds a day because of staffing shortages, Windom said.
The company is now building a freestanding emergency room in Chattooga County, she said. 
Steve Whatley, former mayor of Cuthbert, said the rural Southwest Georgia community hopes to resurrect the town's recently shuttered hospital. 
The Cuthbert hospital's closure in 2020 affected the entire community, but the loss of emergency services has been felt especially acutely, Whatley said. 
"We have one fully staffed ambulance," he said. "People have died in our county waiting on our ambulance."
Randolph County and the surrounding counties need at least a freestanding emergency room, Whatley said. The community will apply for a $25 million federal loan to build an emergency room and five hospital beds to accompany it.
"The loss of the hospital was very hurtful," Whatley said. "But the biggest loss to us was our emergency room."
This story is available through a news partnership with Capitol Beat News Service, a project of the Georgia Press Educational Foundation.