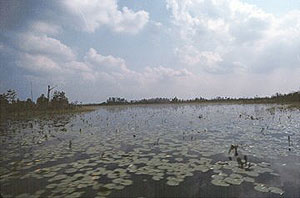 ATLANTA – Mutual fund company Green Century Capital Management is urging chemical producer The Chemours Company and paint manufacturer Sherwin-Williams to consider the environmental risks of mining titanium near the Okefenokee Swamp.
Green Century has filed shareholder proposals with the two companies opposing a plan by Alabama-based Twin Pines Minerals to mine titanium dioxide on Trail Ridge, the swamp's eastern hydrologic boundary.
Chemours, which was spun off from DuPont in 2015, manufactures and sells chemicals including titanium dioxide. Sherwin-Williams is a major carrier of titanium dioxide-based paint.
Neither company has announced specific plans to obtain titanium from a Twin Pines mine near the Okefenokee. In fact, Chemours went so far last year as to publicly state it has no plans to do business with Twin Pines or conduct mining on Trail Ridge.
But according to Green Century, neither has made a permanent commitment not to pursue mining near the swamp.
"As we face escalating climate and biodiversity crises, disrupting the Okefenokee's unique ecosystem with risky and unnecessary titanium mining would not only be irresponsible but potentially catastrophic for the planet," Green Century President Leslie Samuelrich said Thursday. "Both Chemours and Sherwin-Williams should commit to permanently protecting the Okefenokee."
Boston-based Green Century points to scientific studies that conclude the Twin Pines project would significantly damage one of the world's largest intact freshwater wetlands by drawing down its water level and increasing the risk of drought and fires. Such damage could destroy wildlife habitat, damage thousands of acres of private timberland, and release significant carbon emissions, Green Century maintains.
Twin Pines officials have said the proposed mine would not harm the Okefenokee.
The Twin Pines proposal has attracted a great deal of public attention. More than 100,000 public comments opposing the mine have poured in to the Georgia Environmental Protection Division, which is considering a draft Mining Land Use Plan Twin Pines submitted early this year. A poll released last year found nearly 70% of Georgians oppose granting permits for the project.
Also, the Okefenokee is being nominated for inclusion on UNESCO's list of World Heritage sites.
"Sourcing titanium from the edge of the Okefenokee could expose Chemours and Sherwin-Williams to unnecessary climate, regulatory, legal, and reputational risks," said Annie Sanders, Green Century's director of shareholder advocacy. "It's frankly hard to see a strong business case for supporting mining at the Okefenokee."