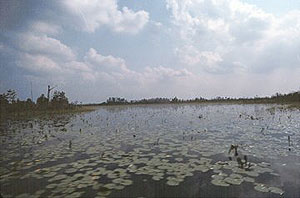 ATLANTA – U.S. Sen. Jon Ossoff has reiterated his call for the state to reject permits for a planned titanium mine near the Okefenokee Swamp.
"This is a unique natural resource, a blackwater swamp … a site for recreation, outdoor education, and tourism," Ossoff, D-Ga., said late last week during an event sponsored by the Georgia River Network. "It's something to keep, a sacred place."
Alabama-based Twin Pines Minerals began seeking permits in 2019 to mine titanium oxide along Trail Ridge near the Okefenokee, the largest blackwater swamp in North America. The project has raised a storm of opposition from environmental groups and other defenders of the swamp, who have argued the mine would devastate the swamp by reducing water levels.
Legislation banning surface mining near the Okefenokee has been introduced in the General Assemly twice but failed to gain traction despite the support of 91 of the 180 members of the Georgia House of Representatives. However, lawmakers did adopt a nonbinding resolution last year calling for protecting the swamp as a valuable tourism resource.
Ossoff hosted Interior Secretary Deb Haaland on a tour of the Okefenokee National Wildlife Refuge in September of last year. Haaland, the first Native American to serve as a Cabinet secretary, said at the time the proposed mine posed a threat to the Muscogee (Creek) Nation's ancestral homeland.
Ossoff did not mention Gov. Brian Kemp – a potential opponent to the senator's expected bid for a second term in 2026 – during his remarks last Friday.
Kemp has not taken a position on the mine. The project's opponents have cited campaign contributions to the governor from Twin Pines executives as a reason he has kept mum.
Since 2019, the Kemp campaign has received $4,500 from Steven Ingle, president of Twin Pines Minerals; $3,500 from Steve Allen, a lobbyist representing Twin Pines, and $1,000 from Twin Pines itself, according to the website OpenSecrets.org.
Kemp's office did not respond to a request for comment.
Meanwhile, the Georgia Environmental Protection Division (EPD) is considering Twin Pines' application for a Mining Land Use Plan permit (MLUP) after receiving more than 100,000 comments opposing the mine during a 60-day public comment period earlier this year.
"EPD asked the applicant to clarify some items in their MLUP, and we are currently awaiting their feedback," agency spokesperson Sara Lips wrote in an email to Capitol Beat.
"Once we receive that follow-up, we will review and determine what the next steps will be based on the information they send us. Following this, the EPD will formally respond to public comments and technical feedback received."
"