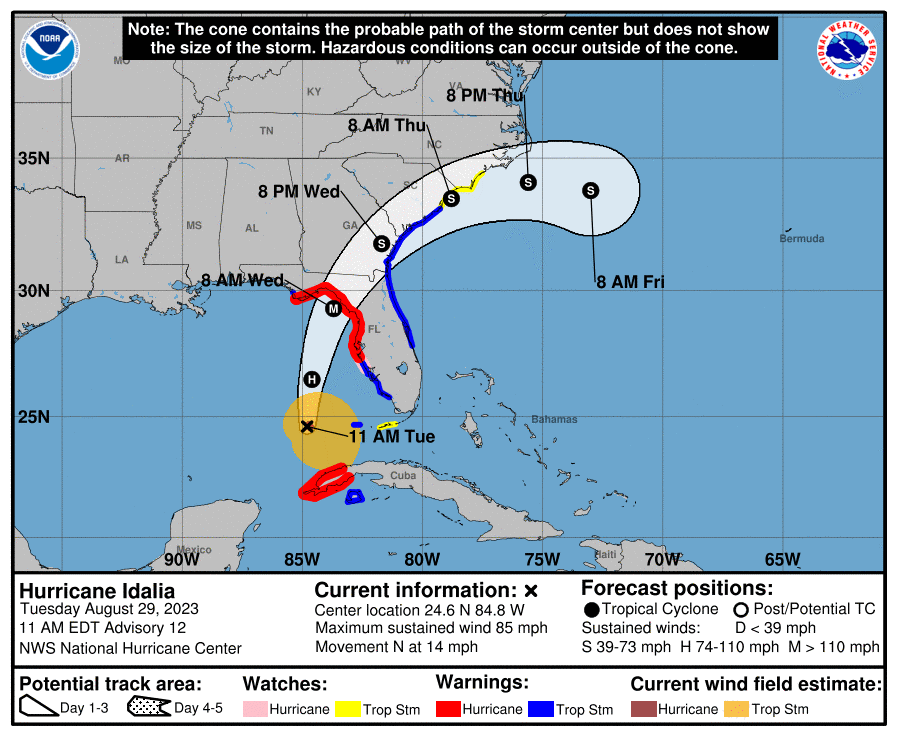 ATLANTA – Hurricane Idalia barreled into South Georgia Wednesday morning as a Category 1 storm, downing trees and powerlines and flooding local roads and highways.
About 61,000 customers were without power, Gov. Brian Kemp told reporters during a noon news conference at the State Operations Center in Atlanta. That number had risen to more than 200,000 by late Wednesday afternoon.
Areas in the hurricane's path were being hit with sustained winds of up to 80 miles an hour, with gusts up to 90 mph, the governor said.
Some areas could get deluged with nine to 10 inches of rain, Kemp said. He said no injuries or deaths have been reported thus far.
"The good news is this is a narrow storm and very fast moving," Kemp said. "We feel fairly confident we're going to be able to get crews moving as we get into the afternoon. We have resources ready to do that."
Idalia made landfall early Wednesday morning in the Big Bend area of Florida's Gulf Coast as a Category 3 hurricane before weakening as it moved inland and into Georgia at about 10 a.m. It is expected to exit Georgia into South Carolina as a tropical storm between 8 p.m. and 10 p.m. Wednesday, Kemp said.
Idalia is not expected to cause as much damage in Georgia as Hurricane Michael, which tore through Southwest Georgia in 2018 as a Category 5 storm, battering farms and forests in the agricultural heartland of the state.
"It's nothing to the scale Michael was," Kemp said. "I'm hopeful it's a good sign that I haven't gotten calls."
James Stallings, director of the Georgia Emergency Management/Homeland Security Agency, said it likely will be up to 72 hours after the storm before utility crews can get to the hardest hit areas to assess the damage and begin repairs.
"Our goal is to circle behind the storm and start providing resources as soon as we can," he said.
While shelters are open and state parks are available, Stallings said there hasn't been a large influx of Floridians in South Georgia fleeing the hurricane.
"They're a very resilient state," he said.
Kemp warned Georgians to remain vigilant as the storm moves through the Peach State.
"This is still a bad storm," he said. "People need to be ready."