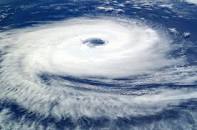 ATLANTA – Utility and highway crews fanned out across South Georgia Thursday restoring power and clearing roads in the aftermath of Hurricane Idalia, which tore across the region for hours on Wednesday.
"We are fortunate the storm was narrow and fast-moving," Gov. Brian Kemp told reporters Thursday during a news conference at the Georgia Capitol. "But if you were in the path, it was devastating."
One fatality was reported during the storm when a tree fell on a vehicle in Lowndes County, one of the areas hardest hit by Idalia, while minor injuries were reported across the region.
At the height of the storm Wednesday afternoon, 277,000 electric customers had lost power, said James Stallings, director of the state Emergency Management/Homeland Security Agency. By Thursday morning, that number had been reduced to 107,000, he said.
The storm also damaged 32 cellphone towers, Stallings said. Most had been restored by Thursday morning, he said.
"There's nowhere that we don't have overlapping service," he said.
Stallings said the Georgia Ports Authority, which closed both the ports of Savannah and Brunswick during the storm, was expected to reopen Savannah by late Thursday morning and the Port of Brunswick by mid-afternoon.
Two major bridges in Coastal Georgia that were closed to traffic on Wednesday, the Talmadge Bridge in Savannah and the Sidney Lanier Bridge in Brunswick, had been reopened by Thursday morning.
Nine state highways remained closed on Thursday, as crews from the Georgia Department of Transportation worked to clear storm debris.
While the Biden administration has approved federal disaster declarations for Florida and South Carolina, Stallings said his agency is continuing to assess the damage in Georgia.
"We had the storm in our state a lot longer than Florida or South Carolina," he said. "We've got a long track of damage to look into."
Kemp said some areas have reported significant crop damage, including downed pecan trees and damage to expensive center-pivot irrigation equipment.
"Hopefully, the peanuts will be all right because they're still in the ground," he said.
Kemp said he and Georgia First Lady Marty Kemp plan to tour storm damage on Friday.