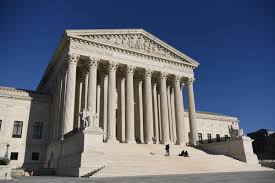 ATLANTA – The conservative majority on the U.S. Supreme Court ruled Thursday that colleges and universities can no longer use race in admissions decisions.
The 6-3 decision in lawsuits brought by the conservative group Students for Fair Admissions against Harvard University and the University of North Carolina, overturned affirmative action policies that have been in effect for decades.
The majority opinion, written by Chief Justice John Roberts, sides with the plaintiff's argument that using affirmative action in college admissions violates the Equal Protection Clause of the Reconstruction-era 14th Amendment to the Constitution.
"Eliminating racial discrimination means eliminating all of it," Roberts wrote.
In a concurring opinion, Justice Clarence Thomas of Georgia, the second Black to serve on the high court, criticized the affirmative action policies colleges and universities have been using as "rudderless, race-based preferences designed to ensure a particular racial mix in their entering classes."
"While I am painfully aware of the social and economic ravages which have befallen my race and all who suffer discrimination, I hold out enduring hope that this country will live up to its principles so clearly enunciated in the Declaration of Independence and the Constitution of the United States: that all men are created equal, are equal citizens, and must be treated equally before the law," Thomas wrote.
But Justice Sonia Sotomayor argued in a dissenting opinion that affirmative action has been used as an effective tool for promoting diversity and inclusion in higher education.
"This limited use of race has helped equalize educational opportunities for all students of every race and background and has improved racial diversity on college campuses," Sotomayor wrote. "Although progress has been slow and imperfect, race-conscious college admissions policies have advanced the Constitution's guarantee of equality."
Lower courts had agreed to that interpretation, ruling in favor of the two schools because they were using race in a limited way to achieve the goal of ensuring diversity in university student bodies.
Kendra Cotton, executive director of the civil and voting rights group New Georgia Project and a member of the Black Southern Women's Collaborative, said the decision denies the reality that more work needs to be done to end racism in America.
"While Black Americans and other Americans of color have made huge strides, especially in education and college admissions, no one can deny the fact that affirmative action has been a critical safeguard in ensuring Black and brown students, who already face so many system barriers, do not continue to get left behind," Cotton wrote in a news release.
"So-called colorblind practices exist solely to ease the guilt of the more privileged and pay lip service to the fantasy of a post-racial society that, unfortunately, too many people in this country wrongly believe is reality."
Joining Roberts and Thomas in the majority were justices Brett Kavanaugh, Neil Gorsuch, Amy Coney Barrett and Samuel Alito. Justices siding with Sotomayor in the minority were justices Elena Kagan and Ketanji Brown Jackson.