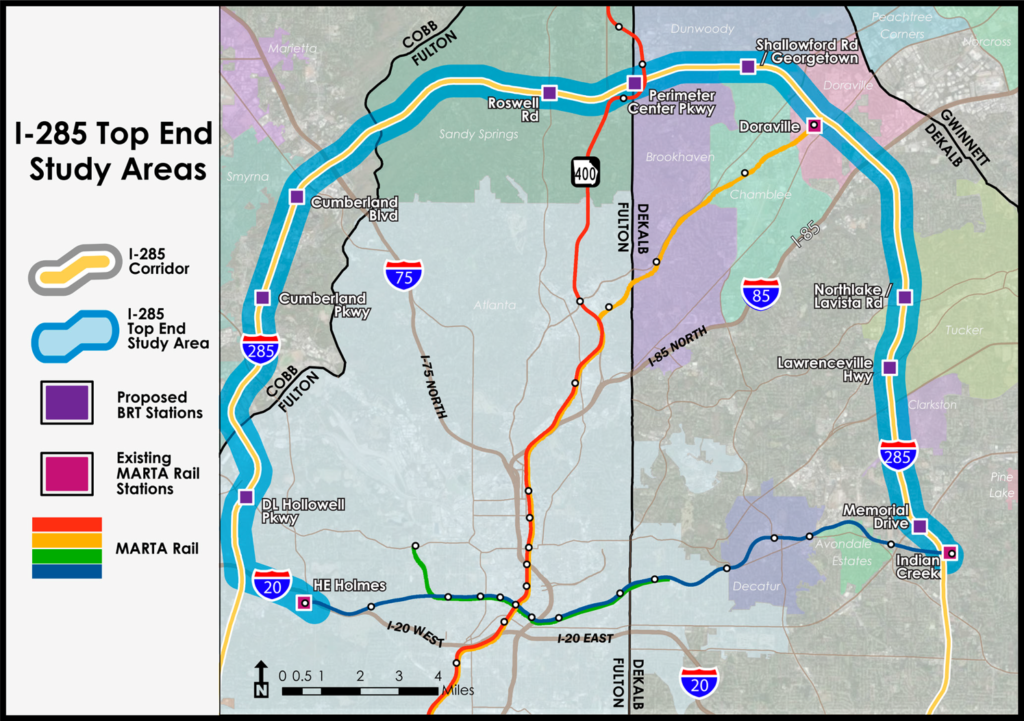 ATLANTA – The board of Atlanta's regional transit agency gave the go-ahead Thursday to a contract with an engineering consultant to design the addition of mass transit to the Top End of Interstate 285.
CDM Smith of Sandy Springs will incorporate high-capacity bus-rapid transit (BRT) service into a project that will add two barrier-separated toll lanes in each direction along 35 miles of I-285 from its interchange with I-20 west of Atlanta all the way around to the I-285/I-20 interchange east of the city. The project is aimed at providing more reliable trip times for all vehicles, including BRT buses.
The $6.7 million planning and design contract – not to exceed $7.5 million – was put together by a consortium including Fulton, Cobb, Gwinnett and DeKalb counties, eight cities along the route, the Atlanta-Region Transit Link Authority (ATL), the Georgia Department of Transportation, and MARTA.
"This is a very significant effort and a truly regional approach," Cain Williamson, the ATL's chief planning officer, told ATL board members before Thursday's vote.
"It's a historic demonstration of partnership in the region," added Georgia Commissioner of Transportation Russell McMurry. "It's a holistic look at transportation."
The contract with CDM Smith, which the MARTA board already has approved, will run for two years with two one-year extension options.
The scope of the consultant's work will include exploring location options for BRT stations, conceptual station designs and station area planning, environmental impact, cost estimates, and an analysis of potential funding sources.