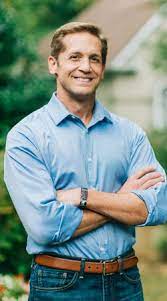 U.S. Rep. Rich McCormick
ATLANTA – U.S. Rep. Rich McCormick, R-Suwanee, Tuesday became the first elected official from Georgia to endorse Florida Gov. Ron DeSantis for president.
"Under Joe Biden's failed leadership, our union has suffered," McCormick said in his formal endorsement announcement of DeSantis. "The southern border is a wreck, crime is overrunning our cities, and our energy policy empowers Communist China, [which] pollutes the world more than anyone else.
"We need a warrior who will do whatever it takes to champion conservative values and safeguard the next generation. … Governor Ron DeSantis is battle tested and ready to be our next president."
McCormick, an emergency room physician and Marine veteran, was elected to Congress last November representing Georgia's 6th Congressional District in Atlanta's northern suburbs.
He didn't mention former President Donald Trump, currently the Republican frontrunner in the polls by a wide margin, in Tuesday's announcement.
But McCormick did say the 2024 election "is not about the past, it's about the future." Several of Trump's Republican opponents have made similar statements aimed at moving the GOP primary electorate away from the former president.
DeSantis has yet to announce he's running for president but is expected to do so as early as this week.
Announced Republican candidates thus far include U.S. Sen. Tim Scott of South Carolina, who entered the race on Monday, former South Carolina Gov. Nikki Haley, former Arkansas Gov. Asa Hutchinson, former biotech executive Vivek Ramaswamy, and conservation talk radio host Larry Elder.