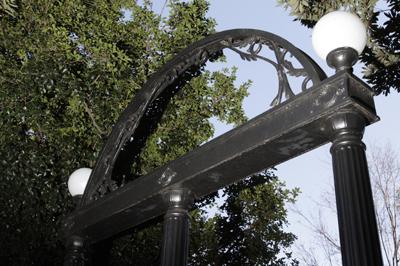 The Arch on the campus of the University of Georgia in Athens
ATLANTA – The University System of Georgia is holding the line on tuition despite a $66 million budget cut the General Assembly imposed in March.
The system's Board of Regents voted unanimously Tuesday in favor of a $3.18 billion fiscal 2024 operating budget with no increase in tuition for the sixth time in the last eight years at 25 of the system's 26 institutions.
Tuition at Middle Georgia State University in Macon will increase by $19 per semester for in-state students and $66 for out-of-state students to fund the second year of a three-year plan to bring undergraduate tuition into alignment with other universities in the same academic sector.
Georgia's public colleges and universities rank seventh-lowest in the nation for tuition costs, Tracey Cook, the system's chief fiscal officer, told the regents.
The fiscal 2024 budget, which takes effect July 1, increases spending by 2.1% over the budget lawmakers approved last spring. It includes $87 million in cost-of-living raises for eligible employees and $7.5 million to cover enrollment growth.
The $66 million cut will be allocated across the system's 26 institutions, Cook said.
System Chancellor Sonny Perdue was unhappy with the reduction and said so the day after the legislature approved it.
"We're working hard to make our case for restoration of those funds," board Chairman Harold Reynolds said following Tuesday's vote.
In addition to the $66 million cut, Gov, Brian Kemp ordered the university system to "disregard" $6.2 million in spending approved by the General Assembly when he signed the state budget May 5.
Cook said those funds will be retained in the system office rather than allocated to the schools while the system awaits further information on how to handle those reductions.
The regents also adopted a $198.2 million fiscal 2024 capital budget that includes $137.8 million for large construction projects on five school campuses.