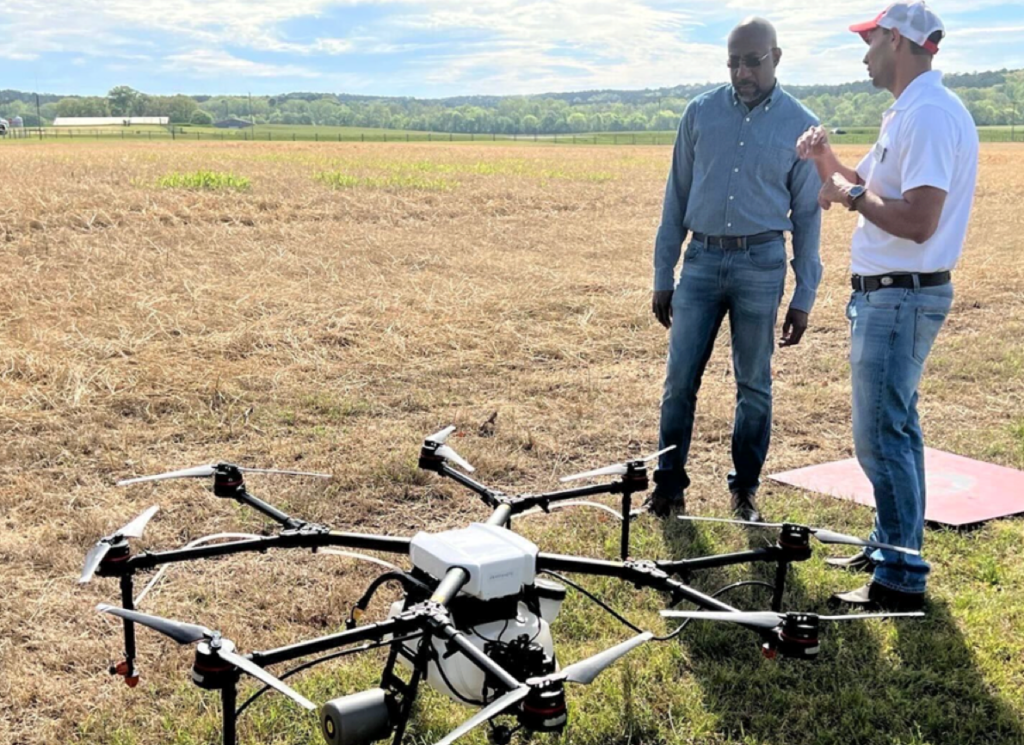 U.S. Sen. Raphael Warnock, D-Ga., got a drone demonstration during a recent tour of a research farm in Watkinsville. Photo credit: The Office of Senator Reverend Raphael Warnock
ATLANTA – With four members of Georgia's congressional delegation serving on either the U.S. House or Senate Agriculture Committee, Peach State lawmakers will have a lot to say about the next Farm Bill.
It was in that spirit that state Commissioner of Agriculture Tyler Harper led a group of Georgia farm industry leaders to Washington, D.C., to advocate for priorities including crop insurance reform, an updating of "reference prices" – government-mandated minimum prices for certain crops – and stepped-up technological research.
"It was very productive … an opportunity for us to take the Georgia message and make sure it was heard," Harper, just back from the trip, told Capitol Beat Friday. "It's important that we have federal policy in that Farm Bill that works for Georgia."
Congress must renew the Farm Bill every five years. The deadline for reauthorizing the 2018 Farm Bill is Sept. 30.
Will Bentley, president of the Georgia Agribusiness Council, who was on the Washington trip, said a key goal for Georgia is to make the state's specialty crops – fruits and vegetables – eligible for crop insurance. Specialty crops are not included in the current Farm Bill and, thus, fruit and vegetable growers can't get insurance coverage for their crops.
"Traditionally, specialty crops were high enough in value" not to need such subsidies, Bentley said.
"Our blueberry crop and peach crop have been hit by natural disasters," he said. "For the first time ever, these high-value crops need help."
Besides adverse weather, another problem affecting the economics of specialty crops is also hitting commodities including cotton and peanuts: Reference prices are not keeping up with the inflated costs farmers are being forced to pay for inputs including seeds, diesel fuel and fertilizer.
"With 90% of our nation's food supply coming from approximately 12% of our nation's producers, ensuring a strong farm safety net is a top priority in the next Farm Bill," said Rep. Austin Scott, R-Tifton, a member of the House Agriculture Committee.
"Increasing reference prices to reflect the increased costs of fuel and fertilizer will help farmers in Georgia and across the country."
Along with the need to update reference prices, Georgia lawmakers and farming industry leaders also are calling for the Farm Bill to address unfair trading practices conducted by foreign competitors in Mexico and Central America.
"We need coverage for price declines while our fruits and vegetables are in season," Bentley said.
Another goal for Georgia lawmakers and agriculture industry leaders is making sure the next Farm Bill recognizes the importance of technology in making farming more efficient.
Sen. Raphael Warnock, D-Ga., who serves on the Senate Agriculture Committee, is working to attach legislation he introduced promoting "precision" agriculture incorporated into the Farm Bill. Warnock visited the University of Georgia's Iron Horse research farm in Watkinsville last month to see technology used in precision farming including water monitors and drones.
"Precision agriculture is a promising development in the agriculture space," Warnock said. "It allows us to use technology so that farmers can make good decisions on how much feed they need, how much fertilizer, how much water, at a time the cost of inputs has gone up."
Rep. David Scott, D-Atlanta, ranking Democrat on the House Agriculture Committee, has made expanding rural broadband service a key priority for the Farm Bill.
"We must ensure that appropriate funding is given to [the U.S. Department of Agriculture] to help us bridge the digital divide between rural and urban America," Scott said. "USDA knows what works for our rural communities better than many other federal agencies and will provide a more immediate solution to our rural communities who do not have adequate and affordable broadband access."
All of the agricultural production programs the Farm Bill supports make up a small minority of its funding. About 85% of Farm Bill funding goes to the Supplemental Nutrition Assistance Program (SNAP) commonly known as food stamps.
Warnock said protecting SNAP from budget cuts is an important priority to benefit both farmers and low-income families.
"A lot of farmers are still struggling coming out of the pandemic," he said. "The last thing we ought to be doing is taking food out of the mouths of hungry children and their families."
While reauthorizing the Farm Bill historically has been a bipartisan endeavor, this year's debate could be affected by the partisan battle over increasing the nations' debt ceiling that is currently dominating Washington. Congressional Republicans are pushing for spending cuts in exchange for agreeing to raise the debt ceiling.
But Harper said he is optimistic funding for farmers will escape the budget axe.
"Members of Congress understand the importance of the agriculture industry," he said. "Agriculture is national security. If we're not protecting our ability to grow food and fiber here in our nation," communities are a lot less safe."