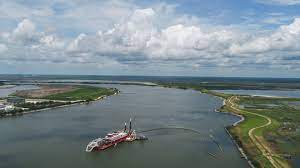 ATLANTA – Container trade at the Port of Savannah was down last month even as the Georgia Ports Authority reported its highest ever national market share.
Savannah handled nearly 395,000 twenty-foot equivalent units (TEUs) of containerized cargo in February, the agency's second busiest February ever but significantly below the record 460,400 TEUs that moved through Georgia's ports in February of last year.
Inflation, rising interest rates and high warehouse inventories were important factors in the container trade dip, port officials said.
Meanwhile, logistics data provider PIERS reported the Georgia Ports Authority now handles one out of every 8.8 loaded TEUs in the U.S., its highest national market share ever.
The Port of Savannah had moved 11.4% of the nation's loaded international containers during fiscal year 2023 through December, with more than 2 million TEUs. The ports authority's share of the U.S. container trade constituted an increase of 0.7%.
"Our global economy is facing headwinds, but Georgia's deep-water ports continue to deliver dependable performance to keep business thriving," authority Executive Director Griff Lynch said Tuesday. "As the nation's top gateway for American farm and factory exports, the Port of Savannah serves as a hub for global commerce."
At the Port of Brunswick, trade in autos and heavy machinery increased 18.5% last month to 52,720 units of Roll-on/Roll-off cargo.
"Volume and market share trends show that despite a slowing economy, Georgia is outperforming the competition," authority board Chairman Joel Wooten said. "Cargo owners and their logistics providers are mitigating uncertainty through the reliability and connectivity of our deep-water ports."