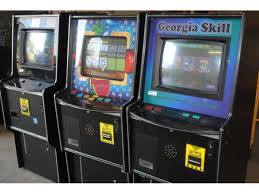 ATLANTA – Legislation aimed at reforming Georgia's coin-operated amusement machines (COAM) industry cleared a committee in the state House of Representatives Tuesday.
House Bill 353 would award non-cash redemption gift cards to winners that could be redeemed anywhere in the state for any legal product. Under current law, COAM winners can redeem their prizes only for merchandise sold in the store where the machine they played is located.
Gift cards would take away the temptation to illegally pay out prizes in cash, a problem that has plagued the industry for years, Rep. Alan Powell, R-Hartwell, the bill's chief sponsor and chairman of the House Regulated Industries Committee, told his fellow committee members.
"Twenty years ago, this business was almost put out of business because of video poker," he said. "It had gotten so out of hand there was little respect for the law."
Powell said conditions have changed since the Georgia Lottery Corp. assumed oversight of the COAM industry and brought technology to bear on those who might otherwise be inclined to cheat.
"These machines are tethered to the lottery," he said. "The lottery knows everything that goes on with them."
Powell said the 10% share the state derives from COAM proceeds for Georgia's HOPE Scholarships and pre-kindergarten programs has become the fastest growing source of revenue for the lottery. He said going with gift cards would drive up that revenue even further.
While the bill cleared the committee unanimously, it has received pushback from the industry. Norcross-based Lucky Bucks, one of the major suppliers of COAM machines in Georgia, sent a memo to members of the General Assembly two weeks ago complaining the bill doesn't address a "lack of rigorous and consistent enforcement" of existing laws governing the industry.
Among other things, the company is asking lawmakers to extend the period retailers that cancel contracts with machine suppliers must wait before they can enter new contracts with different suppliers from the current nine months to 36. The longer wait period would be aimed at discouraging suppliers from stealing retailers from competitors.
Powell's bill now moves to the House Rules Committee to schedule a floor vote. Meanwhile, a Senate version of COAM reform is pending before the Senate Regulated Industries Committee.
This story is available through a news partnership with Capitol Beat News Service, a project of the Georgia Press Educational Foundation.