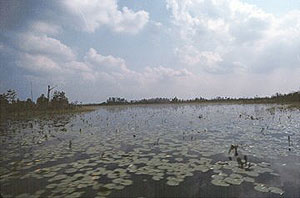 ATLANTA – Eight members of Georgia's congressional delegation have launched a push to have the Okefenokee National Wildlife Refuge designated a UNESCO World Heritage Site.
The seven Democrats and one Republican urged the Interior Department in a letter this week to nominate the Okefenokee for the designation, an important step in winning UNESCO approval.
"The Okefenokee is a national treasure, known for its pristine habitats, complex ecosystem, and rich biodiversity," the letter stated. "A World Heritage Site designation would provide more global recognition of its immense environmental and cultural value and encourage people from all over the world to experience its natural splendor."
The Okefenokee was placed on a tentative list for World Heritage Site designation in 2008, but the designation was never awarded.
The renewed push comes as Alabama-based Twin Pines Minerals is seeking state permits to mine titanium oxide at a site near the Okefenokee Swamp, a proposal that has drawn opposition not only from environmental groups but Georgia lawmakers.
For the second year in a row, legislation has been introduced into the state House of Representatives to ban surface mining along Trail Ridge near the Okefenokee.
"A UNESCO World Heritage Site designation for the Okefenokee National Wildlife Refuge would encourage environmental protection and economic prosperity for the region," the lawmakers wrote in the letter to Shannon Estenoz, the Interior Department's assistant secretary for wildlife, fish, and parks.
"It would support efforts to protect and preserve the refuge's natural and cultural resources and further important scientific exploration and analysis. The nomination would also attract tourism and benefit the local and recreational economy and communities."
Georgia's two U.S. senators, Democrats Jon Ossoff and Raphael Warnock, signed the letter along with Republican U.S. Rep. Buddy Carter of Savannah and five Democratic House members: Sanford Bishop of Albany, Hank Johnson of Lithonia, Lucy McBath of Marietta, Nikema Williams of Atlanta, and David Scott of Atlanta.
UNESCO, headquartered in Paris, is an agency within the United Nations aimed at promoting world peace and security through education, art, sciences, and culture.
This story is available through a news partnership with Capitol Beat News Service, a project of the Georgia Press Educational Foundation.