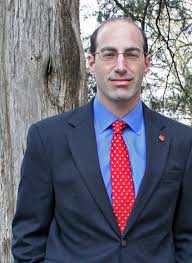 ATLANTA – The state's chief economist injected a note of caution Tuesday as the General Assembly began reviewing Gov. Brian Kemp's $32.5 billion fiscal 2024 budget request.
More than half of the state's record $6.6 billion surplus was built on a huge increase in capital gains tax payments not likely to be repeated, Jeffrey Dorfman told members of the Georgia House and Senate Appropriations committees at the start of three days of hearings on Kemp's spending recommendations.
Typically volatile corporate income tax payments also are uncertain, with only 2% of Georgia businesses accounting for 96% of the record $2.5 billion the state collected in corporate income taxes last year, Dorfman said.
"If they don't make as much money, that spigot shuts off very quickly," he said.
The expected loss of capital gains taxes due to last year's drop in the stock market and likely decrease of corporate income taxes are largely responsible for Dorfman setting a revenue estimate for the current fiscal year that is significantly below what the state brought in last year.
Still, Georgia's economy remains strong just more than halfway through fiscal 2023, which ends June 30, Dorfman told the lawmakers.
Individual Georgians are paying more in income taxes due to a combination of pay raises and inflation driving up prices, Dorfman said.
Inflation also is responsible for boosting the state's revenue outlook by increasing sales tax payments, he said.
Georgians are still saving 2% to 4% of their incomes, even though post-pandemic spending is on the rise, Dorfman said.
"So far, the consumer is not running out of money," he said. "The consumer is still handling their debt quite well."
Dorfman said Georgia's workforce has risen by 167,000 jobs despite the impacts the pandemic had on the economy.
"The [job] sectors that have grown the most pay more [in taxes]," he said. "The Georgia employment picture still looks strong."
While Dorfman is projecting capital gains taxes to all but disappear and corporate sales tax payments to shrink this year and next, he said he expects a 3.5% increase in personal income taxes during the current fiscal year and a slight rise in sales taxes.
Despite the anticipated hit on revenue from declining corporate taxes, the huge surplus means the state can afford the additional tax relief Gov. Brian Kemp promised on the campaign trail last year and again in his inaugural address last week.
Kemp repeated that pledge Tuesday in brief remarks at the beginning of Tuesday's hearing on a remote feed from Davos, Switzerland, where he is appearing at the annual World Economic Forum. Kemp is calling for an additional $1 billion state income tax rebate on top of the rebate the General Assembly approved last year, as well as $1.1 billion in property tax relief.
"Building a bigger and better Georgia doesn't come from building up our government," he said. "It comes from building up our citizens."
Kemp said he is taking advantage of his trip to Europe to invite overseas "job creators" to visit Georgia. He said he's looking to build on record-breaking corporate investment in the Peach State during the last two years.
This story is available through a news partnership with Capitol Beat News Service, a project of the Georgia Press Educational Foundation.