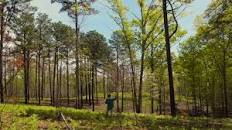 ATLANTA – U.S. Sen. Jon Ossoff, D-Ga., is asking the United States Forest Service to support two fiscal 2024 Land and Water Conservation Fund (LWCF) projects in Georgia.
The proposed Dugdown Mountain Corridor project would build on a multi-state effort to connect the Paulding/Sheffield Forest areas northwest of Atlanta to the Talladega National Forest in Alabama.
The proposed Chattahoochee-Oconee National Forest project would add new land across watersheds that provide drinking water to millions of people and contain habitat for endangered species, ensuring they are further protected.
"There is significant demand for public use for both projects," Ossoff wrote in a letter last week to the chief of the forest service, Randy Moore. "However, these areas' proximity to urban centers also increases the risk that they will be converted into non-forest use. Thus, it is urgent that these lands be secured through the LWCF."
Both areas are popular with Georgians seeking recreation and exercise. Three million people visit the Chattahoochee-Oconee National Forest each year, while 46% of all Georgia hunters and anglers visit the Dugdown Corridor.
Ossoff's efforts to protect the two areas follow congressional passage last year of legislation he sponsored providing $90 million in federal funds to help protect the Chattahoochee River.
This story is available through a news partnership with Capitol Beat News Service, a project of the Georgia Press Educational Foundation.