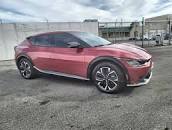 ATLANTA – Georgia's political leaders celebrated Kia Day at the state Capitol Tuesday, touting past successes at Kia's plant in West Point even as the Korean automaker prepares to start producing EV6 electric vehicles.
The West Point Kia plant, which opened in 2009, is turning out more than 1,400 cars per day, Stuart Countess, president and CEO of Kia Georgia, said during an outdoor ceremony at Liberty Plaza across from the Capitol. The company expects to pass the 4 million mark sometime in April, he said.
The plant boasts a workforce of more than 3,000 employees and more than 14,000 when counting the various suppliers that serve the plant.
"What an incredible story," said Gov. Brian Kemp, who followed Countess to the podium. "Kia has not only been a good partner for our state but has been incredibly successful here."
Kia's success story helped convince Korean affiliate automaker Hyundai to commit $5.5 billion last year to building an electric vehicle manufacturing near Savannah expected to create 8,100 jobs when fully built out, making it the largest economic development project in Georgia history.
Together, Kia and Hyundai have been responsible for two "generational" investments in the Peach State in less than two decades, Kemp said.
The West Point plant thus far has produced the highly popular Telluride sports-utility vehicle and the Sorrento SUV. Now, the Korean automaker is making a foray into the electric vehicle market with the EV6.
"Kia's an active participant in Georgia's Electric Mobility and Innovation Alliance," Kemp said, referring to an initiative the governor launched in 2020 aimed at strengthening Georgia's status as a leader in the electric mobility industry.
Kemp and legislative leaders are anxious to move forward during the current session with legislation paving the way for construction of a network of EV charging stations across the state.
A bill addressing that issue fell short last year, caught up in a disagreement over who would build and operate the charging stations, retailers including convenience stores or electric utilities.
Kemp acknowledged Tuesday the issue likely will involve difficult negotiations but said he's confident a solution can be reached.
"It's going to be a complicated process," he said. "But our goal is to keep everybody at the table."
This story is available through a news partnership with Capitol Beat News Service, a project of the Georgia Press Educational Foundation.