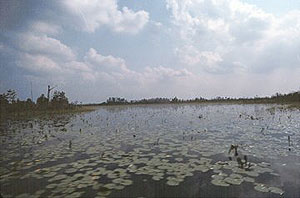 ATLANTA – Opponents of a proposed titanium mine near the Okefenokee Swamp filed a federal lawsuit Tuesday challenging a decision by the U.S. Army Corps of Engineers to turn jurisdiction over permits for the project to the state.
The federal agency suspended the Georgia Environmental Protection Division's (EPD) review of the proposed mine last June, declaring that Alabama-based Twin Pines Minerals (TPM) had not consulted the Muscogee Creek Nation about the project. The Okefenokee is culturally significant to the tribe.
But after the company sued in federal court, the Corps agreed in an out-of-court settlement in August to let the EPD resume its consideration of the permits.
The Atlanta-based Southern Environmental Law Center (SELC) suit filed Tuesday on behalf of four conservation groups argues the Corps' decision would open to strip mining almost 600 acres of wetlands near the Okefenokee National Wildlife Refuge that are critical to the swamp.
"The Corps' decision to reinstate the jurisdictional determinations runs counter to its internal guidance, reasoned decision-making, and common sense," said Megan Huynh, a senior attorney at the SELC.
"Not only are the at-risk wetlands valuable in their own right, but they are important to the health of the irreplaceable Okefenokee Swamp. To comply with the [federal] Clean Water Act, the Corps must require Twin Pines to obtain a federal permit and complete a full environmental review of the mining project."
Twin Pines officials say the mine does not threaten the environment, noting the proposed site for the project is three miles from the southeast corner of the Okefenokee at its closest point and 11 miles from the nearest canoe trail used by visitors.
The company also maintains the land will be restored to its original contours and native vegetation after mining activity is completed.
The SELC is representing the National Wildlife Refuge Association, National Parks Conservation Association, Defenders of Wildlife, and the Center for Biological Diversity in the lawsuit.
"The Corps' failure to follow the law and the science, which overwhelmingly shows the TPM project as an existential threat to the Oke, has exposed the swamp to unacceptable risk," said Josh Marks, a lawyer who has led the opposition to the current mining project as well as a mining proposal near the swamp during the 1990s that was eventually abandoned.
"It's just the opposite of the type of leadership we need from the federal government, especially at a time when the Biden administration is putting such a premium on protecting natural carbon sinks that are critical to fighting climate change."
The Okefenokee Swamp is one of the largest remaining intact freshwater ecosystems in North America. In addition to its ecological significance, the mine's opponents say the refuge supports more than 750 jobs and nearly $65 million in annual economic output.
This story is available through a news partnership with Capitol Beat News Service, a project of the Georgia Press Educational Foundation.