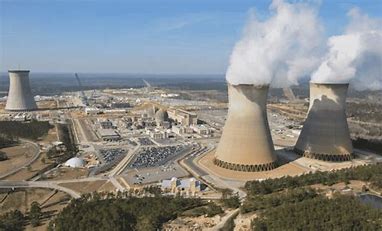 ATLANTA – Georgia Power has settled a lawsuit filed by one of its utility partners in the nuclear expansion at Plant Vogtle over allocating the costs of finishing the long-delayed, overbudget project.
The Atlanta-based utility has agreed to pay the Municipal Electric Authority of Georgia (MEAG) at least $76 million based on the current capital cost forecast for completing the construction of two additional nuclear reactors at the plant south of Augusta.
The two units originally were expected to go into service in 2016 and 2017. But the work was delayed by a variety of factors, including the bankruptcy of the original prime contractor and disruption to the construction workforce during the coronavirus pandemic.
The latest forecast calls for the first of the new reactors to begin operating during the first quarter of next year, followed by the second reactor in the fourth quarter of 2023.
MEAG sued Georgia Power last June asserting its right to trigger a 2018 agreement freezing its capital costs for the project. Originally expected to cost $14 billion when the state Public Service Commission approved the expansion in 2009, the price tag has more than doubled.
The MEAG action followed a suit filed by Oglethorpe Power, another minority partner in the project.
Oglethorpe owns 30% of the Vogtle expansion project, while MEAG's share is 22.7%. Georgia Power, the largest of four utility partners, holds a 45.7% ownership share. Dalton Utilities has a tiny 1.6% stake.
Under the 2018 agreement, when the project costs reach a certain point, the minority partners are allowed to reduce their ownership share in exchange for Georgia Power picking up 100% of the remaining costs to complete the project.
Under the settlement, filed with the U.S. Securities and Exchange Commission (SEC) late last week, MEAG will retain full ownership of its project share. Georgia Power will pay 20% of any additional costs MEAG incurs beyond the current project capital cost forecast.
The agreement between Georgia Power and MEAG does not resolve Georgia Power's ongoing legal disputes with Oglethorpe and Dalton Utilities. Georgia Power's potential exposure in those cases is up to $165 million, according to the company's filing with the SEC.
This story is available through a news partnership with Capitol Beat News Service, a project of the Georgia Press Educational Foundation