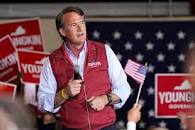 ALPHARETTA – Virginia Gov. Glenn Youngkin, the Republican who pulled off an upset victory in his state over Democrat Terry McAuliffe last year, came to Georgia Tuesday to stump with GOP Gov. Brian Kemp.
"The pundits said Virginia wouldn't elect a Republican governor. It was too blue," Youngkin told an enthusiastic crowd gathered at Alpharetta's Town Green. "They forgot to ask the voters. Voters stood up and made a statement. … Now, it's your turn."
Youngkin said the changes he has brought to Virginia during his first year in office were modeled after what Kemp did in Georgia during the pandemic, including reopening schools and businesses.
"We were locked tight and shut tight during the pandemic," Youngkin said. "You didn't have that because you had Brian Kemp."
Kemp said his actions to reopen Georgia's economy earlier than the media and Stacey Abrams, his Democratic challenger, thought was wise helped Georgia lead the nation's recovery.
"I wasn't listening to them. I was listening to the people in restaurants, barber shops, the cosmetologists," he said. "They understood we had to protect lives. But we also had to protect livelihoods."
Kemp reminded his audience of actions the Republican-controlled General Assembly took this year at his urging, including approving the largest state income tax cut in Georgia history, passing a $1 billion tax rebate, and suspending the state's gasoline tax while pump prices remain high.
If he wins a second term in November, he pledged to push for another $1 billion tax rebate, making use of robust budget reserves he said were built up because of Georgia's economic recovery.
"We have excess money," he said. "We're going to send it back to you taxpayers."
Kemp also cited the Parents' Bill of Rights the legislature adopted this year to guarantee parents a say in their children's education, an issue Youngkin also emphasized on the campaign trail after McAuliffe said during a debate that parents should not have a role in preparing a school's curriculum.
In a second term, Kemp promised to continue his focus on overcoming the learning loss students suffered during the pandemic when schools closed and switched to online instruction.
A group of anti-abortion activists held up signs during Tuesday's rally criticizing Kemp's support for Georgia's new anti-abortion law, which took effect soon after the U.S. Supreme Court overturned the constitutional right to abortion in June.
One sign, which read "Regulate Guns, Not Women," took a second swipe at the governor's backing of legislation this year allowing Georgians to carry concealed firearms without a permit.
This story is available through a news partnership with Capitol Beat News Service, a project of the Georgia Press Educational Foundation.