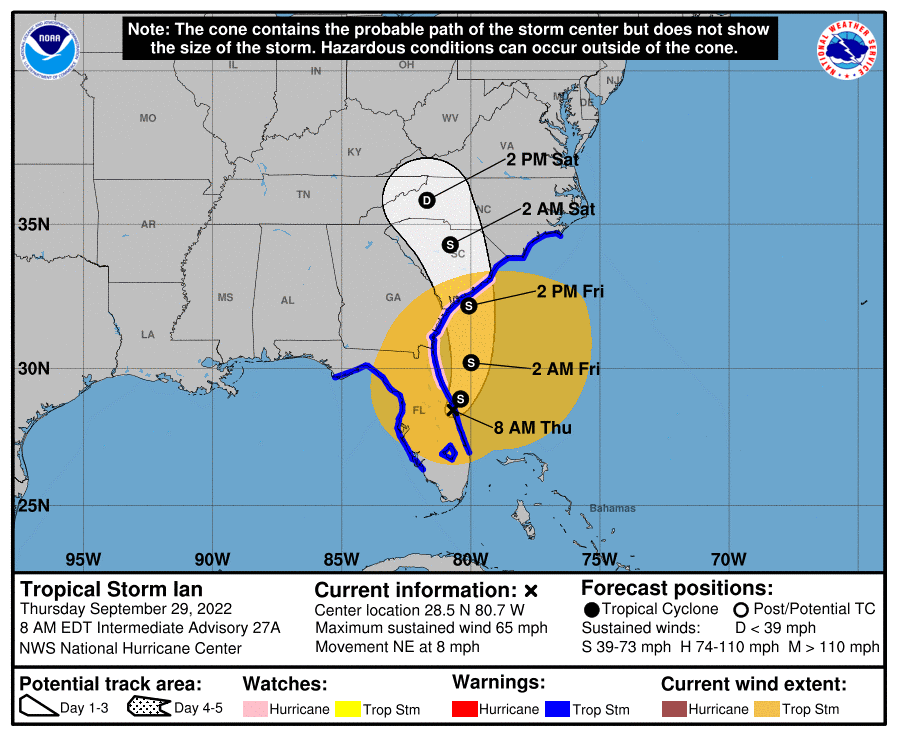 ATLANTA – Tropical Storm Ian has shifted to the east and is not expected to make a direct hit on the Georgia coast, Gov. Brian Kemp said Thursday.
Weakened from the Category 4 hurricane that slammed into Southwest Florida Wednesday, Ian is now expected to make a second landfall Friday in South Carolina, the governor said during a briefing in Savannah.
However, two to four inches of rain still are possible in East and Southeast Georgia Thursday and Friday, accompanied by three to five feet of storm surge and gusty winds of up to 40 miles an hour.
A tropical storm warning, storm surge warning, hurricane watch, and flood watch are in effect along Georgia's entire 110-mile coast through Friday, while a wind advisory is in effect for much of North and Middle Georgia.
The order Kemp issued earlier this week declaring a state of emergency for all of Georgia's 159 counties took effect Thursday morning.
The state Department of Transportation closed the Sidney Lanier Bridge in Brunswick Thursday morning, but the Houlihan Bridge over the Savannah River is closed only to boat traffic.
While Savannah/Hilton Head International Airport remains open, the Georgia Ports Authority has cleared the Port of Brunswick of all vessels until the storm passes. The Port of Savannah has cleared any waiting ships but will continue operating until 6 p.m. Thursday.
State emergency management officials said plenty of hotel rooms remain available in Georgia to house Floridians traveling north to get out of the worst effects of what was Hurricane Ian.
The Georgia Department of Economic Development has activated the Explore Georgia hurricane information webpage to help evacuees find rooms and other resources.
Kemp encouraged Georgians in low-lying areas or at-risk floodplains – particularly those who live in vulnerable housing – to consider moving temporarily to higher ground.
This story is available through a news partnership with Capitol Beat News Service, a project of the Georgia Press Educational Foundation.