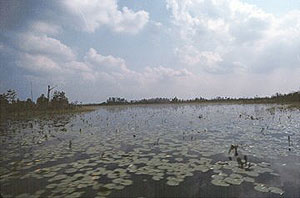 ATLANTA – The Alabama-based company looking to mine titanium near the Okefenokee Swamp has reached an out-of-court settlement that will allow the state to resume consideration of permits for the project.
The U.S. Army Corps of Engineers suspended review of those state permits in June, declaring that Twin Pines Minerals had not consulted the Muscogee Creek Nation about the project. The Okefenokee is culturally significant to the tribe.
The company sued in federal court, alleging that suspending consideration of the proposed mine violated the Administrative Procedures Act as well as its constitutional rights.
The settlement announced Monday will let the state Environmental Protection Division (EPD) pick up its review of the project.
"This is great news for Twin Pines, for our project, and for Charlton County," Twin Pines President Steve Ingle said. "We appreciate the Corps' willingness to reverse itself and make things right."
Twin Pines originally sought permits for a mine that would have affected about 12,000 acres near the swamp. Later, the company revised its plans to a smaller "demonstration mine" of nearly 900 acres.
Still, the mine is expected to generate hundreds of high-paying jobs and almost double rural Charlton County's tax base, according to a Twin Pines news release.
Environmental groups oppose the project, citing the threat to the hydrology of the largest blackwater swamp in North America.
"We are exceedingly disappointed in the Corps' decision to put the polluter before people, again placing at risk the iconic Okefenokee and hundreds of acres of wetlands that are critical to its health," said Kelly Moser, senior attorney and leader of the Southern Environmental Law Center's Clean Water Defense Initiative.
Twin Pines officials say the mine does not threaten the environment, noting the propose site for the project is three miles from the southeast corner of the Okefenokee at its closest point and 11 miles from the nearest canoe trail used by visitors.
The company also maintains the land will be restored to its original contours and native vegetation after mining activity is completed.
Moser said Twin Pines still must comply with the federal Clean Water Act, which will require a federal permit in addition to the state permits the company is seeking.
This story is available through a news partnership with Capitol Beat News Service, a project of the Georgia Press Educational Foundation.