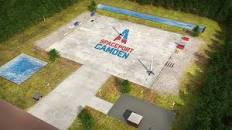 ATLANTA – The risk of a fire on Cumberland Island from a launch failure at a proposed commercial spaceport in Camden County is "so low as to not be credible," according to a new study.
ARCTOS, an engineering consultant with more than 60 years of experience in launch and reentry risk analysis, found only two scenarios in which a failed launch could result in a fire on Cumberland: a low-altitude breakup resulting in a fireball or debris hot enough to cause a fire.
In the first case, according to the study, a mid-air explosion could not create a fireball large enough or lasting long enough to cause a ground fire. In the second, the likelihood of debris hot enough to cause a fire is low.
"Opponents of Spaceport Camden have said that '[their] biggest concern is fire' that 'destroys cottages and the natural environment, and possibly kills or injures inhabitants,' " said Gary Blount, chairman of the Camden County Commission. "The ARCTOS study conclusively proves that these fears are unfounded."
The county has been the main driver behind Spaceport Camden as a potential economic engine for southeastern Georgia and has spent $11 million pursuing it.
The project cleared a major hurdle late last year when the Federal Aviation Administration approved a launch site operator license authorizing up to 12 small-vehicle launches per year.
But the spaceport's supporters have suffered two significant setbacks this year. In March, Camden County voters overwhelmingly rejected a referendum that would have allowed the county to buy a 4,000-acre site to house the facility.
Late last week, Union Carbide, which owns the site, announced it no longer intends to sell the property to the county.
Kevin Lang, who owns property on adjacent Little Cumberland Island, called the study a "red herring" by Spaceport Camden supporters to divert attention from the obstacles blocking the project.
"I question the timing," he said. "It looks like this is an attempt to distract the public from the more relevant news."
Lang also questioned the study itself. He said ARCTOS focused on an unrealistic launch trajectory.
"They launch the rocket almost straight up … to minimize the dwell time over Cumberland Island," he said. "There's never been a rocket launch from Cape Canaveral with that trajectory that we know of. …The normal pattern would be flatter."
"Rockets do launch and explode," added Dick Parker, another Little Cumberland Island property owner. "That's why in the United States, we don't launch rockets over houses."
Despite the referendum, the county is continuing to pursue the land deal through an existing contract with Union Carbide. The case has landed in the state Supreme Court, which has set oral arguments for Aug. 23.
This story is available through a news partnership with Capitol Beat News Service, a project of the Georgia Press Educational Foundation.