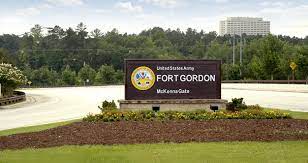 ATLANTA – A commission created to rename military bases currently named for historical figures with ties to the Confederacy is recommending renaming Fort Gordon near Augusta for former President and World War II military leader Dwight Eisenhower.
The Naming Commission also suggested renaming Fort Benning near Columbus for Lt. Gen. Hal Moore and his wife Julia. Moore's 32 years of service in the Army from 1945 until 1977 included commanding combat troops in Vietnam.
Forts Gordon and Benning are among seven Army bases the commission chose for renaming.
"Our goal was to inspire today's soldiers and the local communities with names and values that have meaning,"  retired Navy Admiral Michelle Howard, the chair of the Naming Commission, said Wednesday. "We wanted names and values that underpin the core responsibility of the military, to defend the Constitution of the United States."
The commission visited the seven bases last year for listening sessions with military commanders and community leaders and to gain feedback including preferences for new names.
During the listening sessions and a public comment period, the panel received more than 34,000 submissions for renaming, including 3,670 unique names.
The push to rename military bases honoring Confederate military and political leaders has been part of an effort that has included removing statues from public places in cities across the South.
Other Army bases being renamed include Fort Bragg in North Carolina, Fort Rucker in Alabama; Fort Polk in Louisiana, and forts A.P. Hill, Lee and Pickett in Virginia.
The new names the commission is recommending will be in its report to Congress, which is due by Oct. 1.
This story is available through a news partnership with Capitol Beat News Service, a project of the Georgia Press Educational Foundation.