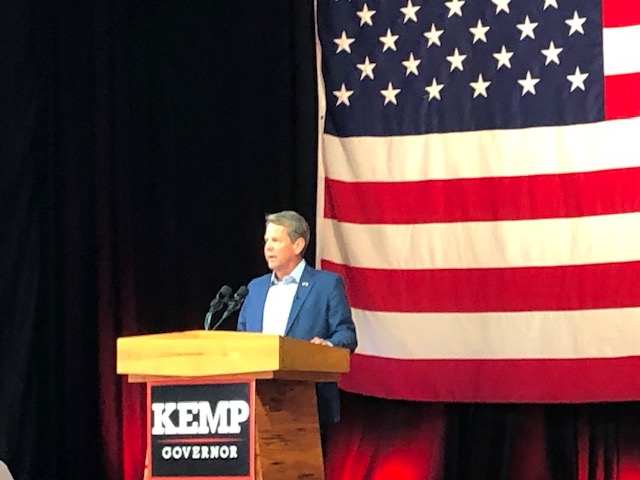 ATLANTA – Going into last Tuesday's Republican gubernatorial primary, former U.S. Sen. David Perdue's challenge of incumbent Gov. Brian Kemp was threatening to tear the GOP apart, potentially easing Democrat Stacey Abrams' path to victory.
But the huge margin of Kemp's primary win – amassing nearly 74% of the vote to just 22% for Perdue – could help unite Republicans. Perdue took the first step Tuesday night when he urged supporters to get behind Kemp going forward.
"I don't see the party being divided at this point," said Chuck Clay, a partner with Atlanta law firm Hall Booth Smith and a former chairman of the state GOP.
Perdue carried the endorsement of former President Donald Trump into the race and made Trump's claims of widespread fraud in Georgia's 2020 elections – dismissed in multiple court rulings as baseless – the main theme of his campaign.
Perdue's focus on an election a year and a half in the rear-view mirror played a key role in his defeat, said Kerwin Swint, a political science professor at Kennesaw State University.
"There was never really a rationale for Perdue's challenge, other than the Trump controversy," Swint said. "A lot of Georgia Republicans are ready to move on. … They are feeling you can be a Republican and a conservative and don't have to do what Donald Trump tells you."
Kemp, on the other hand, ran on his record of accomplishments in three and a half years as governor.
Just this year, he steered a conservative agenda through the General Assembly to let Georgians carry concealed firearms without a permit, give parents more say in their children's education and require transgender students to compete in school sports based on their gender at birth.
Sitting on a huge budget surplus, Kemp gave teachers and state workers pay raises, refunded taxpayers $1.1 billion and launched a phased-in rollback of state income tax rates.
"Kemp had a lot to work with," said Charles Bullock, a political science professor at the University of Georgia. "He had a good legislative session."
Perdue's defeat was part of a trend that saw a roster of other Trump-endorsed Republican candidates in Georgia come up short in their primary races.
U.S. Rep. Jody Hice, R-Greensboro, lost to incumbent Secretary of State Brad Raffensperger. Like Kemp, Raffensperger was targeted by Trump for refusing to help the then-president overturn Georgia's 2020 presidential election results.
John Gordon, another Trump-endorsed challenger, lost to Attorney General Chris Carr. Patrick Witt was beaten by state Insurance Commissioner John King.
In statewide races, Herschel Walker and state Sen. Burt Jones, R-Jackson, were the only members of the Trump ticket to win their primaries. Walker won primarily because of his universal name recognition as a University of Georgia football great, while Jones was bidding for the vacant post of lieutenant governor.
Bullock said Trump's down-ballot picks weren't able to overcome their lack of name recognition because he didn't put any money into their campaigns.
"The candidates didn't have any way to get the word out," Bullock said. "Endorsements don't have any value if you don't get the word out. … They don't turn a nobody into a winner."
Kemp's one-sided victory over Perdue has given him a shot of momentum heading into the general election campaign against Abrams. How far that momentum carries the governor will depend in large part on whether he can convince Perdue voters to support him in November.
"So many Republicans are just not going to vote for Kemp," Trump said during a "tele-rally" with Perdue the night before Tuesday's primary.
Georgia Democrats are encouraged over Abrams' chances to oust the governor, despite her narrow loss to Kemp in 2018 and two decades of Republican domination of statewide elections.
U.S. Rep. Nikema Williams, D-Atlanta, who doubles as state Democratic chairwoman, said Democrats are feeling positive coming off the 2020 election cycle, which saw Democratic presidential nominee Joe Biden carry Georgia and Democrats Jon Ossoff and Raphael Warnock flip the state's two U.S. Senate seats.
"In 2018, nobody believed what was possible," Williams said. "In 2020, we shocked the world. We showed them Georgia Democrats were competitive."
But Swint said the size of Kemp's primary win and the enthusiasm Republican voters are showing to bounce back from the 2020 losses bode well for the governor.
"Republicans are certainly pumped," Swint said. "Kemp has the greater momentum now heading into the general election."
This story is available through a news partnership with Capitol Beat News Service, a project of the Georgia Press Educational Foundation.