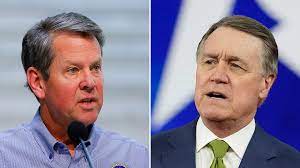 ATLANTA – A poll released Friday by SurveyUSA comes as good news for Gov. Brian Kemp and fellow Republican Secretary of State Brad Raffensperger heading into next week's start of early voting for the May 24 primaries.
The online survey of 2,000 Georgia adults – including 1,587 registered voters – conducted April 22 through April 27 – found Kemp with a big lead over Republican challenger former U.S. Sen. David Perdue, 56% to 31%. Three other GOP gubernatorial candidates were in the low single digits, while just 8% were undecided.
If that margin holds up, Kemp would avoid the uncertainty of a June 21 runoff against Perdue and could immediately set his sights on a November rematch with Democratic nominee Stacey Abrams.
The same poll found Raffensperger leading his reelection bid over U.S. Rep. Jody Hice, R-Greensboro, 31% to 20%. Two other Republican candidates split 9% of the vote, while 40% were undecided.
Those results could set the stage for a runoff between Raffensperger and Hice, giving the challenger more time to play up former President Donald Trump's endorsement of his candidacy. Trump has thrown his weight behind both Hice and Perdue because neither Raffensperger nor Kemp would go along with the then-president's attempts to overturn the results of the 2020 presidential race in Georgia that helped catapult Democrat Joe Biden into the White House.
Another Trump-endorsed candidate, University of Georgia football great Herschel Walker, is poised to easily win the U.S. Senate Republican primary for the right to face incumbent Democratic Sen. Raphael Warnock.
Walker enjoys a huge lead in all of the polls, including SurveyUSA's, which put his support at 62%. His closest opponent is Georgia Agriculture Commissioner Gary Black with just 6%. Four other candidates combined for 10% of the vote, and 21% were undecided.
"Undecided" was the top vote-getter in down-ballot primary races included in the poll, with voters barely engaged in those races despite the start of early voting May 2.
In the Republican contest for lieutenant governor, state Senate President Butch Miller, R-Gainesville, held a thin lead over state Sen. Burt Jones, R-Jackson, 15% to 14%. Two other candidates were in the single digits, and 59% were undecided.
Over on the Democratic side of the ballot, former Atlanta City Councilman Kwanza Hall was the only candidate for lieutenant governor above single digits at 11% in a large field, with 62% of voters undecided. Hall also served a brief stint in Congress following the death of Rep. John Lewis in 2020.
State Rep. Bee Nguyen, D-Atlanta, was the only Democrat running for secretary of state to hit double digits in the SurveyUSA poll, with 12% of the vote. In that contest, 60% were undecided.
The pool of adult survey respondents was weighted to U.S. Census targets for gender, age, race, education, and home ownership.
This story is available through a news partnership with Capitol Beat News Service, a project of the Georgia Press Educational Foundation.