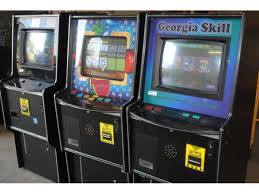 ATLANTA – Legislation making major changes to regulations governing Georgia's coin-operated amusement machines (COAM) industry is back on the table in the General Assembly.
But committees in the state House and Senate adopted significantly different versions of COAM reform this week.
Both chambers' Regulated Industries committees approved raising the prize limit on the so-called "kiddie" machines typically found at businesses including Dave & Buster's and Chuck E. Cheese from redeemable merchandise valued at $5 to $50.
Both versions of the legislation also would exempt fraternal and veterans organizations from a requirement that locations hosting adult COAM machines derive at least 50% of their income from the machines.
But the Senate committee removed from its version of the bill a provision allowing the awarding of gift cards to winners. The Senate legislation also would increase the share of revenue from the machines going to the Georgia Lottery from 10% to 30%.
Companies that own the machines and the convenience stores, restaurants and other businesses that install them would each receive 35% of the proceeds, down from the current 45%.
COAM income has soared since the Georgia Lottery began managing the machines in 2014.
An industry that brought in more than $2 billion in 2016 more than doubled its revenue to $4.5 billion last year. Proceeds going to Georgia's HOPE Scholarships and pre-kindergarten programs rose from $33.5 million in 2016 to $145 million last year.
Much of that growth has come during the coronavirus pandemic, Lottery President and CEO Gretchen Corbin told members of the Senate committee Tuesday.
"We provided a very good form of entertainment during that time period," she said.
But the COAM industry has been plagued by retailers awarding cash payouts to winners. The gift card provision in the House bill is aimed at discouraging that illegal activity, said state Rep. Alan Powell, R-Hartwell, chairman of the House committee and the House bill's chief sponsor.
"This would take away any rationale for these folks to pass out cash money," he said.
But Georgia Sen. Bill Cowsert, R-Athens, the Senate committee's chairman, said the Senate leadership does not support awarding gift cards.
Another provision Senate leaders insist on is increasing the lottery's share of COAM proceeds from 10% to 30%, he said.
Cowsert said the higher take is more in line with what other states are collecting from their COAM machines.
He also noted that the Georgia Lottery Corp. gets 27% of the proceeds from lottery sales.
Emily Dunn, CEO of Tom's Amusement Co., a COAM machine installer from Blue Ridge, said awarding gift cards would attract more players and, thus, increase sales.
"We need more transparency," she said. "That card gives it to us."
As is the case with efforts in the General Assembly to legalize casinos in Georgia, the COAM legislation is drawing opposition from faith-based groups warning of increased rates of bankruptcy, suicides and family violence associated with addicted gamblers.
"It's a dangerous industry," said Mike Griffin, public affairs director for the Georgia Baptist Mission Board. "The social cost typically outweighs whatever benefit you get."
A lack of consensus on how to reform the COAM business doomed legislation in the General Assembly last year, and the differences between the House and Senate bills could spell trouble again this year.
Crossover Day falls on Tuesday. Bills must pass at least one legislative chamber to remain alive for the year.
This story is available through a news partnership with Capitol Beat News Service, a project of the Georgia Press Educational Foundation.